English department alumna Layne Parish Craig, now an instructor at TCU, publishes her first book
Mon, January 6, 2014
Layne Parish Craig
In alumni news, Dr. Layne Parish Craig, a graduate of the University of Texas Ph.D. program in English Literature, now an Instructor of English at Texas Christian University, has published her first book, When Sex Changed: Birth Control Politics and Literature between the World Wars.
From the Press Release:
In When Sex Changed, Layne Parish Craig analyzes the ways literary texts responded to the political, economic, sexual, and social values put forward by the birth control movements of the 1910s to the 1930s in the United States and Great Britain.
Discussion of contraception and related topics (including feminism, religion, and eugenics) changed the way that writers depicted women, marriage, and family life. Tracing this shift, Craig compares disparate responses to the birth control controversy, from early skepticism by mainstream feminists, reflected in Charlotte Perkins Gilman's Herland, to concern about the movement's race and class implications suggested in Nella Larsen's Quicksand, to enthusiastic speculation about contraception's political implications, as in Virginia Woolf's Three Guineas.
While these texts emphasized birth control's potential to transform marriage and family life and emancipate women from the "slavery" of constant childbearing, birth control advocates also used less-than-liberatory language that excluded the poor, the mentally ill, non-whites, and others. Ultimately, Craig argues, the debates that began in these early political and literary texts—texts that document both the birth control movement's idealism and its exclusionary rhetoric—helped shape the complex legacy of family planning and women's rights with which the United States and the United Kingdom still struggle.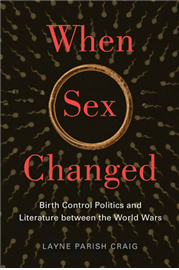 How did you become interested in the subject matter of this book, namely, the birth control movements of the early twentieth century and how they impacted the literature of the day?
I came to UT interested in fertility themes and images in literature, particularly Irish literature. Then in 2006, I took a class called The Only Child with Elizabeth Cullingford and began to think more historically about the connections between pubic discourse on reproductive issues and individual women's decisions about their own fertility. Doing further reading, I found these connections especially rich in the 1910s, as the birth control movements in the US and the UK altered the content and volume of public discourse about reproduction, and I became excited about the possibilities of identifying (sometimes obscured or coded) narratives about fertility that might be in conversation with those movements.
How do you feel that the texts you examine in your book and their discussions of birth control from a century ago resonate and persist in our current social and political landscape?
I state in my book's conclusion that I was surprised to see my project growing in relevance as I worked on it between 2007 and 2012: in particular, of course, the United States has seen an upsurge in calls by political and religious authorities to limit access to abortion and even contraception, calls often using arguments about women, religion, and sexuality that echo language from a century ago. We also, of course, see sometimes troubling words of birth control advocates, most notably Margaret Sanger, revived as part of current reproductive rights debates: throughout my project, I tried to deal seriously with the legacy of eugenics in the birth control movement, a connection that has had both historical and rhetorical consequences for contemporary feminist movements. After completing the book, I feel more strongly than ever about the role of narrative in counteracting polarized debates about reproductive rights: I have found that in 1920 and today, personal narratives and fiction about these issues have an ability to raise complicated questions and build empathy that transcends most political discourse.
How would you say your graduate work at UT shaped your areas of academic interest?
As I mentioned above, I was inspired by Dr. Cullingford's Only Child class to look for these particular connections between media discussion about how women "should" do family planning and women's own stories about family planning. The kind of cultural materialist approach I took in writing my book was something I was able to explore in several of my classes at UT--I'm thinking about Mia Carter and Barbara Harlow's classes, and Alan Friedman's Backgrounds of Modernism. I also continue to be interested in how narrative and genre shape the stories people tell about bodily experiences, and I trace that interest to Lisa Moore's Lesbian Genres class, which is actually, I think, where I first wrote something that became a chapter of When Sex Changed--a paper on Irish lesbian popular novelist Kate O'Brien. Working with my committee and dissertation group at UT, I felt comfortable branching out in unexpected directions, like looking for connections between gay and lesbian rights advocates and birth control advocates, and acknowledging the different scholarly and political valences of my project, which I think made the book ultimately much richer and more ambitious than the one I would have written without their influence.
What form has your career path taken starting in your time at UT as a graduate student and after graduating?
After I finished my PhD in 2009, I was fortunate enough to receive a postdoctoral fellowship in the English Department at UT for 2010-2011. I then took a Visiting Assistant Professorship at Fitchburg State University in Massachusetts, but returned to Texas in 2012 to take an Instructor position at Texas Christian University.
Are you currently working on any projects?
Yes! I am working toward another large project on post-WWI representations of physicians in popular genre literature, starting with an article I recently finished on villainous doctors in Dorothy Sayers's detective novels. I also continue to be interested in narratives about reproductive decision-making, and am renewing some work I started in graduate school about women's online writing about assisted reproduction therapies.
Do you have any advice for current English graduate students whose goal is to attain an academic career at a college or university?
My biggest piece of advice is to be open to a variety of opportunities: our profession is in flux right now, and the possibilities and decisions that our generation of teacher-scholars faces will look different from those of our professors, but not always in negative ways. For example, I moved to Fort Worth because an opportunity arose to take on a teaching-heavy position with a big advantage of being close to my family in Texas. Working with a 4-4 teaching load is a challenge, but for me there are compensations in my location and the opportunities I've had to teach material I love at TCU. Being able to balance the different parts of ourselves as teachers, scholars, and people will always be difficult, but trying to stay mindful that my ultimate goal is this this kind of balance has helped me through the challenges of the job market and early career.
When Sex Changed is now available from Rutgers University Press.
---