Dr. Supriya Nair's newest book wins the prestigious Nicolás Guillén Award
Mon, January 13, 2014
Supriya Nair earned her Ph.D. in the English Department at UT in 1992 by writing a dissertation on "Making History: Social Revolution in the Novels of George Lamming," a version of which, Caliban's Curse: George Lamming and the Revisioning of History, was published as her first book in 1996 by the University of Michigan Press. She went on to edit Teaching Anglophone Caribbean Literature (MLA, 2012) and to co-edit with her husband, Gaurav Desai, Postcolonialisms: An Anthology of Cultural Theory and Criticism (Rutgers University Press, 2005).
Nair is now a Professor at the Department of English and a faculty affiliate of the programs in Latin American and Caribbean Studies, African and Diaspora Studies, and Gender and Sexuality Studies at Tulane University, where she has taught since 1992 and currently serves as Director of Graduate Studies in English.
Her latest book, Pathologies of Paradise: Caribbean Detours (University of Virginia Press, 2013) has just won the Nicolás Guillén Award for this year's Outstanding Book in Philosophical Literature. The Awards Committee of the Caribbean Philosophical Association reports that this book "is a rich and compelling analysis of Anglophone Caribbean literature from multidisciplinary, multi-genre and multi-theoretical perspectives that include postcolonial literary theory, psychoanalysis, cultural studies theory, and transnational Caribbean feminist theory. True to the ethos of the Guillén Award for Philosophical Literature, this book broadens and problematizes the scope of Caribbean philosophy through its intersectional approach that subverts colonial and national binaries of the Caribbean as tropical paradise or 'infernal stereotype.'"
Past recipients of the Guillén Award include Wilson Harris, Ramabai Espinet, Edwidge Danticat, Gabriel García Márquez, Junot Díaz, The Mighty Chalkdust / Hollis Liverpool, Prafulla Kar, Gordon Rohlehr, and Ana Lydia Vega.
The awards will be conferred in a special session of the international conference of the Caribbean Philosophical Association, which will be held in conjunction with the meetings of the Simone de Beauvoir Society and the Jean-Paul Sartre Society. The meeting will take place June 19 to 21, 2014, in St. Louis, Missouri.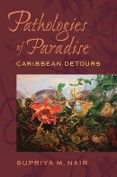 Dr. Nair's book, Pathologies of Paradise: Caribbean Detours, is available here.
---