Global Shell Games Released by Cambridge
Mon, February 24, 2014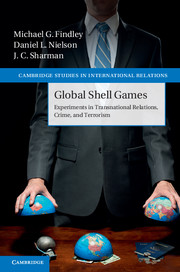 Terrorists and organized criminals need vehicles to launder their money. The vehicle of choice? Anonymous shell companies, untraceable to any actual owner. Where do terrorists and criminals establish these untraceable shell companies? The Cayman Islands? Some other tropical paradise where people hide money to evade taxes? Probably not, as new research authoritatively demonstrates that island tax havens are actually some of the hardest places in the world to launder money. Where is it easiest? The United States and other Organization for Economic Cooperation and Development (OECD) countries.
"If I were a terrorist or organized criminal, and I was going to set up a shell corporation to launder money through, I would likely do it in Delaware, Wyoming, or Nevada," says Michael Findley, assistant professor of Government. Findley's research has just been published by Cambridge University Press in Global Shell Games: Experiments in Transnational Relations, Crime, and Terrorism, which he coauthored with Daniel L. Nielson (Brigham Young University) and J.C. Sharman (Griffith University).
The book presents the results of the first field experiment conducted on a global scale. Findley and his team impersonated organized criminals and terrorists and approached corporate service providers (CSPs), including thousands of law firms, with the intent of establishing anonymous shell companies, which would be untraceable as to the source of the money moving through them. International law has combated anonymous shell companies by requiring CSPs to obtain notarized photo identification documents from clients, but Findley wanted to test if they actually comply. To do so, 7,456 emails were sent to 3,771 firms in 181 countries requesting confidential incorporation, randomly assigning different conditions to the requests.
The result? Untraceable shell companies are pretty easy to acquire. Of the responses they received, half did not demand a certified photo ID and, of those, half required no photo ID whatsoever. They found no evidence that providing information about international law induces compliance, and the threat of legal penalties had little effect on firms' behavior. Highlights of the study include:
Firms in tax haven countries are significantly more compliant with international law than wealthy and developing countries, with firms in OECD countries the least compliant;
Incorporation service providers in Delaware, Indiana, Nevada, and Wyoming are among the least compliant in the world;
In the United States, nine of 1,722 providers required full, certified identity disclosure and only 10 fully compliant responses were received;
In the U.S. sample, the proportion of providers that replied and required no photo ID at all was 42 percent, compared to 16 percent in the international sample.
A different way to interpret the results: if one were to go shopping for an anonymous shell company, how many law firms or service providers would one need to approach? The findings of this global study suggest that internationally one only needs to contact 12 providers. In the United States, even fewer approaches are required – 11. Given the relative ease of making such approaches, an organized criminal or terrorist could begin looking in the morning and have agreement for anonymous incorporation by lunch.
There were some encouraging findings. For example, in the United States, firms were less likely to reply to incorporation requests and less likely to be noncompliant when told the IRS would enforce the requirements. Also, when firms received the experiment's terrorism treatment they responded to the request significantly less than the placebo group, and when they did respond, they were non-compliant significantly less often. However, Findley and his coauthors caution that this is a relative measure — in absolute terms, if you are a terrorist, it is still very feasible to find a CSP willing to establish an anonymous shell company on your behalf.
---