Guy P. Raffa
---
Professor

—

PhD

,

Indiana University
Professor of Italian Studies
Contact
E-mail:

guyr@utexas.edu

Phone:

512-232-5492

Office:

HRH 3.104A

Office Hours:

TTH 4-5 and by appointment (Zoom)

Campus Mail Code:

B7600
Interests
---
Dante Studies, Italian Literature and Culture, Public Scholarship, Digital Humanities
Biography
---
Guy P. Raffa's latest book, DANTE'S BONES: HOW A POET INVENTED ITALY, was published by Harvard University Press in May 2020.
*Winner of the 2021 Book Award (Medieval-Renaissance-Early Modern) from the American Association of Teachers of Italian
*Reviewed in Publishers Weekly, Library Journal, AirMailWeekly, The Wall Street Journal, Law & Liberty, StrategyPage, The Heythrop Journal, Chronicles, Rain Taxi, London Review of Books, Annali d'Italianistica
*Excerpted in Literary Hub and Lapham's Quarterly
*Television interview for "Dante," a 3-part documentary directed by Ric Burns for RAI DUE and PBS
*Podcast interviews with NewBooksNetwork, Historically Thinking, and Leeds Centre for Dante Studies
On DanteDay 2021, he told how he came to write Dante's Bones in this blog for Harvard University Press.
For his new book project he was awarded an NEH Public Scholars Fellowship and a College Research Fellowship for 2020-2021. The NEH program supports "the creation of well-researched nonfiction books in the humanities" by writers seeking "to communicate the significance of their research to the broadest possible range of readers."
Professor Raffa has taught at the University of Texas at Austin since 1991. He holds a B.S. in computer science and mathematics from Duke University and a Ph.D. in Italian Literature from Indiana University. His primary scholarly field is medieval Italian literature—Dante above all—with a secondary interest in modern Italian authors, particularly Italo Calvino and Umberto Eco. In addition to articles and book-essays, he has written three other books: Divine Dialectic: Dante's Incarnational Poetry (Toronto, 2000), Danteworlds: A Reader's Guide to the "Inferno" (Chicago, 2007), and The Complete Danteworlds: A Reader's Guide to the "Divine Comedy" (Chicago, 2009). For his work on Dante's graveyard history and cultural legacy, he won a Humanities Research Award from the University of Texas and research fellowships from the American Council of Learned Societies and the National Endowment for the Humanities.
His award-winning Danteworlds project takes visitors on a multimedia journey through Dante's Hell, Purgatory, and Paradise. Highlighted in the New Yorker and the Los Angeles Times, the website was selected by EDSITEment! as "one of the best online resources for education in the humanities." As seen in this public lecture, Professor Raffa has built on the success of Danteworlds to show how digital scholarship advances the reciprocity of university research and teaching while making this work available for the benefit of society at large. He has been interviewed for articles in Smithsonian Magazine, Slate, and The Atlantic, and has published popular essays on a wide range of Dante-related topics, from medieval battles, the American Revolutionary War, the American Civil War, and Google, to Mad Men, marriage equality, Dan Brown, Baseball Beards, and racial justice.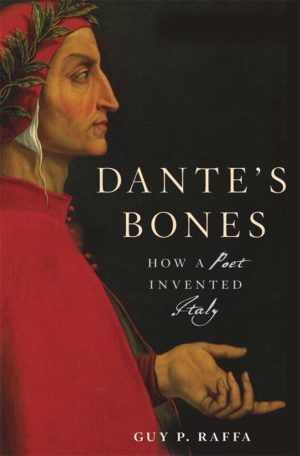 Books
---
Dante's Bones: How a Poet Invented Italy (Harvard University Press, 2020)
Dante, whose Divine Comedy gave the world its most vividly imagined spiritual afterlife, has endured an extraordinary physical life beyond the grave. The year 2021 will mark the 700th anniversary of his death. Exiled in death as in life, Dante has hardly rested in peace over the centuries. Like a saint's relics, his bones have been stolen, recovered, reburied, exhumed, examined, and worshiped. Above all, they have been exploited: Claims to his physical remains, this book shows, are also political, religious, or artistic claims to the authority of Italy's greatest poet.
Actors in this graveyard history range from Lorenzo de' Medici, Michelangelo, and Pope Leo X to the Franciscan friar who hid the bones, the stone mason who accidentally discovered them, and the opportunistic sculptor who accomplished what Florentine princes, popes, and politicians could not: allow Dante's native city of Florence to repatriate a precious relic of the poet it had banished.
Dante's Bones narrates for the first time the complete course of the poet's physical afterlife, from his death and burial in 1321 to a computer-generated reconstruction of his face in 2006. Recovering and assembling the pieces of Dante's lively skeletal history, this book closely examines a wide variety of archival and published sources across multiple fields, including literature, religion, architecture, art history, physical anthropology, and political and military history. Besides creative and scholarly works, it draws on scientific reports, diplomatic documents, popular materials (newspapers, magazines, films, videos), and eyewitness accounts in letters, diaries, and memoirs.
This graveyard history illuminates and is illuminated by the history of Italy. As the highlighted portion of Dante's dead body has diminished—from a skeleton to bones to fragments, finally to dust—his cultural legacy has expanded from the city to the nation to the world. A political and literary hero for Renaissance Florence, the poet was transformed from Italy's father and prophet into a nationalist champion during two world wars and Mussolini's fascist dictatorship before becoming the one-name global icon we know today.
*Winner of the 2021 Book Award (Medieval-Renaissance-Early Modern) from the American Association of Teachers of Italian
Reviews
"A fascinating narrative of translation (literal), cultural appropriation, and myth making. Dante becomes a humanist ideal, a nineteenth-century prophet, and hence father for Italy, and abstraction to which all political persuasions have sought to harness themselves. The actual travails of Dante's remains also make for fascinating reading." — Annali D'Italianistica (2021)
"Guy Raffa tells the remarkable story of Dante's afterlife, by turns grotesque, lively and farcical, as the loss and recovery of his bones intertwines with the tempestuous fate of Italy." — London Review of Books (July 15, 2021)

"Meeting the challenge of invigorating historical events with whodunit tones of intrigue, Guy P. Raffa's Dante's Bones delivers a fairly adventurous tale." — Rain Taxi (March 2021)
"details the path that Dante's remains trod in his physical afterlife, from the time of his death to the present, and of the people who wanted a piece of him for themselves. . . Has the marks of a detective story." — Chronicles (January 2021)
"an excellent book for anyone with an interest in Dante, the arc of Italian history, or merely an historical adventure well told." — StrategyPage (September 15, 2020)
"it's an intensively researched, gripping story of Dante's lively bones that also tells a brisk history of modern Italy." — Law & Liberty (July 23, 2020)
"has a deep acquaintance with Italian antiquarian lore, supported by immaculate prose craftsmanship." — Wall Street Journal (May 29, 2020)
"In fiction and in fact, Dante Alighieri has been influencing the world order for centuries. Just how he's achieved global-icon stature is the subject of Guy P. Raffa's fascinating, comprehensive new book." — AirMailWeekly (May 23, 2020)
"Pulling together many threads of Dante's story, Raffa offers an engaging, informative, and original account of the material culture of the poet's epic body of work. Highly recommended." — Library Journal (May 1, 2020)
"devotes this fascinating study to how the treatment of Dante's remains over the centuries has reflected his centrality to Italian history and culture. . . . In tracing the history of Dante's bones, Raffa also provides an illuminating exploration of Italian nationalism and political thought." — Publishers Weekly (March 13, 2020)
Dante Alighieri changed literature forever by reimagining the afterlife, and Dante's Bones now captures Dante's afterlife in a way that has never been done. Adeptly guiding us through medieval politics as well as modern science, Guy Raffa achieves the elusive accomplishment of vividly bringing Dante to life through his death. — Matthew Pearl, author of The Dante Club and The Dante Chamber
Dante's Bones is at once a vivid retelling of Dante's fortunes in the centuries following his death and an important work of historical scholarship. Guy Raffa's deft prose illuminates the enduring contest over the great poet's mortal remains, providing a remarkable instance—by turns comical, deadly serious, and always captivating—of the appropriation of literary genius for political and cultural purposes. — Albert Ascoli, author of Dante and the Making of a Modern Author
Dante's Bones is an enormous gift to readers and scholars of the poet and Italian history. With intensive scholarship in a wide variety of fields as his loom, Raffa has woven a fascinating tapestry out of 700 years of guarding, stealing, hiding, maintaining, studying, celebrating, debating, and claiming the material form and symbolic meaning of Dante's remains. — Arielle Saiber, author of Measured Words: Computation and Writing in Renaissance Italy
---
The Complete Danteworlds: A Reader's Guide to the "Divine Comedy" (University of Chicago Press, 2009, second printing in 2011).
Seamlessly combining a major work of scholarship with extensive pedagogical features, this multi-purpose book is a valuable resource for researchers, teachers, students, and other ambitious readers of Dante's Divine Comedy. The poem's earliest commentators and Giovanni Boccaccio's public lectures on it in the fourteenth century inaugurated a tradition—interpreting and explicating the Comedy in piecemeal fashion (from individual verses to a single canto)—that has been carried on by Dante scholars down to the present. Based on original research and written in lively prose, The Complete Danteworlds contributes to this tradition with a new scholarly commentary that covers the entire Divine Comedy. It does so, moreover, in a highly innovative way: unique among Dante commentaries, the entries in this book are conceived and arranged according to the geography of Dante's afterlife: rather than line by line notes, the over 240 entries in The Complete Danteworlds follow the path traveled by Dante and his guides as they descend through the circles of Hell, climb the terraces of Mount Purgatory, and traverse the spheres of Paradise. This geographical organization, truer to Dante's visual imagination than a purely textual ordering, has born fruitful scholarly results by providing new information and critical insights on topics that received only partial or scattered treatment in earlier commentaries. Published by a top-tier university press and widely reviewed in academic journals, The Complete Danteworlds combines the best qualities of a monograph and a textbook by embodying the productive reciprocity of original research and innovative pedagogy.
Reviews
In his superbly written and always engaging presentation of the three realms of the afterlife Guy Raffa displays the rare ability to see, as it were, both the forest and the trees, capturing the grand outlines and shape of Dante's poem as well as identifying and providing incisive commentary on its myriad components—people, places, events, themes. Not only will first-time readers of the Comedy appreciate Raffa's meticulous overview, but seasoned scholars will also profit from his many critical insights. Danteworlds will have a major impact on the ways we read, teach, and study the Comedy. - Christopher Kleinhenz (Carol Mason Kirk Professor Emeritus of Italian, University of Wisconsin-Madison)
The commentary and structure of the guide constitute a very impressive work of scholarship in that it admirably fulfills its goal of presenting Dante's poem in all of its complexity without reductionism. - Peter Bondanella (Distinguished Professor Emeritus of Comparative Literature, Film Studies, and Italian, Indiana University)
Dante Studies are in safe hands when such energy and creativity is brought to bear on the Comedy. . . . This book deserves a wide audience, both inside and outside the academy. - Notes and Queries
Under the author's skillful guidance, the world of Dante's creative output is lucidly explored and engagingly presented. - Forum Italicum
---
Danteworlds: A Reader's Guide to the Inferno (University of Chicago Press, 2007)
This is the first guide to Dante's Inferno to take readers on a geographic journey through the poet's underworld—not canto by canto but circle by circle, similar to how Dante and Virgil proceed in their infernal descent. The heart of Danteworlds is an original commentary arranged according to the physical layout of Dante's Hell. Each chapter (or "region") of the book, from the "Dark Wood" down to the ninth circle of Hell, begins with a summary of the action and contains detailed entries followed by significant verses and useful study questions. The entries, based on a close examination of the poet's sources (biblical, classical, and medieval) in addition to the most up-to-date scholarship, treat the characters and creatures encountered by Dante on his journey as well as a vast array of references to religion, philosophy, history, politics, and literature. For news of people and events from Dante's time and place, Danteworlds provides information and entertaining anecdotes drawn from the poem's earliest commentators. The book's critical methodology is grounded in the conviction that there is no substitute for revisiting and analyzing the primary sources (in the original languages) from the ancient world to the late Middle Ages that fired Dante's imagination and for examining closely how he fashioned this material into a literary masterpiece.
Reviews
Guy Raffa provides lucid, concise information on all the major persons, deities, and creatures encountered in the course of his journey. - Deborah Parker (Professor of Italian, University of Virginia)
Throughout, Raffa finds ways to provide context and clues that encourage the reader to return to Dante's poem for a fresh look. The book, therefore, is not only useful for first-time readers, but also for those who regularly teach the Comedy to such readers. - The Medieval Review
. . . it does a remarkable job of conveying a great deal of information as well as a lively sense of the richness, interest, and relevance of the Inferno. - Speculum
---
Divine Dialectic: Dante's Incarnational Poetry (University of Toronto Press, 2000)
Divine Dialectic: Dante's Incarnational Poetry offers a fresh reading of Dante's major literary works—the Vita nuova and the Divine Comedy—by combining central tenets of incarnational theology and dialectical thought. Recognizing Dante as a poet who paradoxically embraces both opposition and reciprocity, this book shows how Dante challenges such conventional dichotomies as human desire and divine love, artistic fame and spiritual humility, sacrifice and triumph, and political action and philosophical contemplation. Divine Dialectic ultimately argues that Dante crosses textual and theological boundaries to promote the paradoxical union of contradiction and resolution as a way of reading his poem and, by extension, the world itself.
Reviews
This book is commendable for being daring and Dantean in the truest sense of the word. - Renaissance Quarterly
Lucid, erudite, and thought provoking, this is an important contribution to Dante studies that will be obligatory reading for advanced students and scholars of the Commedia. - Choice
This is a book, though, not just for Dante Scholars. Anyone interested in medieval Christianity will find it informative and enriching. - Christianity and Literature
This impressive book, Guy Raffa's first, shows from the outset a genuinely remarkable degree of scope and ambition. . . . This is an important contribution to the field that will compel its readers to reconsider some of their most cherished preconceptions about the workings of Dante's mind and poetry. . . . He leaves his readers permanently indebted to him, both for a compelling general interpretation of Dante's major works and for countless illuminating observations of textual detail that enlarge our readerly understanding. - Symposium
The reviewer read every page of this book with keen interest and found it to be one of the most satisfying works of criticism on Dante that he knows. . . . It achieves a remarkable level of readability and grace, comprehensiveness and control, telescoping whole fields of scholarship in ways that focus their exact pertinence for specific points in Dante's text. It deserves to become a widely read and highly esteemed work of American Dante criticism. - Letteratura Italiana Antica
Academic Articles and Essays
---
"Eco's Scientific Imagination," in New Essays on Umberto Eco, ed. Peter Bondanella. Cambridge: Cambridge University Press, 2009. 34-49.
"'Io amo New York': Calvino's Creatively Chaotic City," in Science and Literature in Italian Culture from Dante to Calvino, ed. Pierpaolo Antonello and Simon A. Gilson. Oxford: Legenda, 2004. 276-91.
"Dante's Poetics of Exile," Annali d'italianistica 20 (2002): 73-87.
"Usury," "Greeks," and "Five Hundred Ten and Five." The Dante Encyclopedia. New York and London: Garland, 2000.
"Carlo Levi's Sacred Art of Medicine," Annali d'Italianistica 15 (1997): 203-20.
"Dante's Mocking Pastoral Muse," Dante Studies 114 (1996): 271-91.
"Eco and Calvino Reading Dante," Italica 73.3 (1996): 388-409.
"Dante's Beloved Yet Damned Virgil," in Dante's "Inferno": The Indiana Critical Edition, ed. Mark Musa. Bloomington: Indiana University Press, 1995. 266-85.
"Enigmatic 56's: Cicero's Scipio and Dante's Cacciaguida," Dante Studies 110 (1992): 121-34.
"Love's Duplicity in the Vita Nuova," Italian Culture 10 (1992): 15-26.
"From Two's to Three's in Inferno II," Lectura Dantis 10 (1992): 91-108.
"La bestialità ne Il Decameron e due strutture contrapposte," The Rackham Journal of the Arts and Humanities (1991-92): 35-42.
Digital Humanities
---
Danteworlds Website
Welcome to Danteworlds: A multimedia journey--combining textual commentary, artistic images, and audio recordings--through the three realms (Inferno, Purgatory, Paradise) of Dante's Divine Comedy. This site contains, in addition to an abridged version of the original commentary in The Complete Danteworlds: A Reader's Guide to the Divine Comedy and Danteworlds: A Reader's Guide to the Inferno, Italian recordings of selected verses and a vast gallery of images depicting characters and scenes from the Divine Comedy. Like the books, the Danteworlds Web site is structured around a geographic representation of Hell, Purgatory, and Paradise--the three worlds of Dante's Divine Comedy.
Danteworlds is "an invaluable resource for specialists and novices alike," writes E. S. Hierl (Harvard University) in Choice Reviews Online, "the sort of multimedia experience that those in the digital humanities strive for" (August, 2010). The subject of an interview on the home page of the University of Texas at Austin, Danteworlds was selected for inclusion on EDSITEment in 2008 as "one of the best online resources for education in the humanities," and was featured in the literary blogs of the New Yorker (Jan. 8, 2009) and the Los Angeles Times (Jan. 14, 2009).
AWARDS, GRANTS, AND HONORS
2007 Gold Award, Innovative Instructional Technology Awards Program
2007 UT-Austin nominee, Chancellor's Council Innovations in Education Awards
2003 Silver Award, Innovative Instructional Technology Awards Program
2003 Liberal Arts Instructional Technology Grant
2001 Liberal Arts Instructional Technology Grant
PRESENTATIONS
"Danteworlds: DHing the Scholar-Teacher in the Piazza," FL@DH: Foreign Languages in the Digital Humanities," University of Texas at Austin, February 6, 2016.
"Dante's Web: Research and Teaching in the Virtual Piazza," Modern Language Association, Austin, Texas, January, 2016.
"Barking up a Different Tree: A Digital Humanities Complement to Distant Reading," American Association of Italian Studies, Boulder, Colorado, March, 2015.
"Danteworlds: A Multimedia Journey through Dante's Divine Comedy," Humanities Lecture Series, University of Texas at Austin Continuing Education, October, 2004.
"Danteworlds: A Visual Journey through Dante's Afterlife," Iona College, April, 2004.
Invited Lectures (Selected)
---
"Old Bones and New Life: Dante's Physical and Literary Legacy with Dr. Guy Raffa and Dr. Virginia Jewiss," University of Texas at Austin and the Consulate General of Italy in Houston. Zoom presentation. October 22, 2021.
"Dante's American Afterlife," Italian Cultural Institute, Embassy of Italy, Washington D.C. Zoom presentation. October 19, 2021.
"Dante's Afterlife in 2021," Valentine Giamatti Lecture, Mount Holyoke College. Zoom presentation. March 2021. https://events.mtholyoke.edu/event/dantes_afterlife_in_2021?_ga=2.64242411.55492855.1626818629-1777178513.1610331630#.YPdITGaZM_V
"Dante's Afterlife," Dr. Neil Euliano Lecture, University of Central Florida. Zoom presentation. March 2021. https://www.youtube.com/watch?v=YjrcrLBswuA
"Dante's American Comedy," Calandra Italian American Institute. Zoom presentation. March 2021.
"Translating Dante's Body," Dante Society of America, University of Oregon, Eugene, May 6, 2017.
"Danteworlds: DHing the Scholar-Teacher in the Piazza," FL@DH: Foreign Languages in the Digital Humanities," University of Texas at Austin, February 6, 2016.
"Dante's Immortal Remains: From Florentine Martyr to Global Icon," Annual Dante Lecture, Center for Renaissance Studies, Newberry Library, Chicago, November 15, 2013.
"Dante and the Popular Imagination: A Historical Perspective," Dante Society of America, MLA, Los Angeles, January 8, 2011.
"Romancing the Tomb: Dante's Bones and Italian History," Annual Dante Lecture, Yale University, October 20, 2010.
Public Outreach
---
Presentations and Classes
"Dante's Bones: The Divine Poet and the Idea of Italy." Oscher Lifelong Learning Institute, University of Texas at Austin, February 8, 2017.
"Dantemania: Looking Back Today for a Better Tomorrow." University Lecture Series, Bass Concert Hall, University of Texas at Austin, September 29, 2014. (https://www.youtube.com/watch?v=CKCoLNCmBPw)
"Dante's Inferno," St. Michael's Catholic Academy, Austin, Texas. January 27, 2014.
"Dante's Inferno," Lyndon B. Johnson High School, Austin, Texas, February 7, 2005.
"Danteworlds: A Multimedia Journey through Dante's Divine Comedy," Humanities Lecture Series, University of Texas at Austin Continuing Education, October, 2004.
Videos
"Canto per Canto: Conversations with Dante in Our Time." Video discussion (with Arielle Saiber) of Paradiso 28, Dante Society of America, 2020 (https://www.youtube.com/watch?v=Pn9iffCL6KQ)
"Dante, A Poet for All Times," Digital Speakers Bureau, The Center for European Studies at the University of Texas at Austin. May 2015. (http://www.digitalspeakersbureau.com/speakers/guy-raffa/)
"Dante's Bones," Humanities Research Award, College of Liberal Arts, University of Texas at Austin. April 2013. (https://www.youtube.com/watch?v=ySsCFBjBZRk)
Curriculum Vitae
---
Profile Pages
---
External Links
---