Posted June 3, 2014
By David Ochsner
Last June Professor Joseph Carter had reason to celebrate. The United Nations Educational, Scientific and Cultural Organization (UNESCO) had named the ancient city of Chersonesos—a place where he had dedicated more than two decades of his career—a World Heritage Site.
It's not easy to earn UNESCO World Heritage status. For Carter, it required persistence, money and a bit of good fortune—including the end of the Cold War—to bring world recognition to this Crimean city, founded by Greek colonists in the fifth century B.C.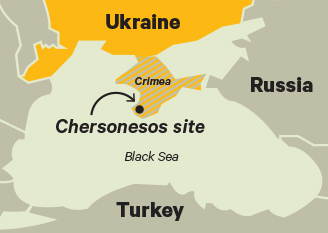 With world recognition came the prospect that the site could one day become an archeological park, a rare opportunity for tourists from around the world to explore the interconnections of an ancient city with its rural environment.
On March 1, that prospect dimmed as Russian forces seized the Crimean peninsula and the chill of Cold War once again fell over the peninsula and its ancient treasures.
A WAITING GAME
This isn't the first time frosty East-West relations blocked a path in Carter's research. He's been studying ancient Greek colonial farm life since the early 1970s at Metaponto, in Italy, carving out a niche in classical archaeology by excavating rural sites, learning more about "ordinary people" in the ancient world, such as farmers, and how their rural settlements—known in Greek as the "chora"—interacted with their urban centers.
Although research at Metaponto has yielded rich discoveries, Carter knew of another site at the tip of Ukraine's Crimean peninsula that was an even better preserved example of Greek colonial life and succeeding Roman and Byzantine cultures.
"I learned about Chersonesos very early, when searching for parallel cases of ancient Greek land division, which was also an important aspect of the chora of Metaponto," says Carter, who is also director of UT Austin's Institute of Classical Archaeology (ICA) in the College of Liberal Arts. "Metaponto led quite naturally to Chersonesos, but I had to wait 20 years for the Cold War to end to travel there."
Chersonesos was located within one of the most secret zones on earth, near the Soviet naval installation at Sevastopol. Although the Cold War had ended in 1991 with the collapse of the Soviet Union, Sevastopol remained a closed city until the end of 1995. Carter knew he would have to be persistent and a bit lucky to get his foot in the door.
Then, at a 1992 conference in Metaponto, Carter met a Russian scholar who was impressed with the ICA's work in Italy. This scholar had influence with the Ukrainian and Russian governments, and two weeks later Carter received permission from the foreign minister and the commandant of the Black Sea Fleet in Sevastopol to visit Chersonesos. What he found was a treasure.
"The shroud of secrecy actually helped to preserve the site," Carter says. "Because the area was closed, it was also off-limits to developers."
The site's condition is remarkable, given its long and turbulent history—countless raids by various tribes, occupation by two empires (Roman and Mongol) and three major wars beginning with the Crimean War of the 1850s. During World War I and the Russian Revolution, control of the area changed hands six times. According to Carter, the Crimean War and World War II in particular left "huge scars."
"We found a lot of ammunition, some unexploded, on our site in the chora known as 'no name hill,'" he says.
To read the full story, visit Life & Letters.