The End of the World Film Series
Tue, February 8, 2011
Unless civilization is destroyed before the end of the semester, we'll watch seven apocalyptic movies together. Why do we keep imagining our world out of existence? What's the difference between a good apocalypse and a bad one? Is it wrong to enjoy images of New York city struck by overwhelming catastrophe? Come help us solve these and other dilemmas. Flicks, pizza, conversation, unmitigated disasters. What's not to like about that?
Open to the public.
Films start at 5:30pm in Burdine Hall (BUR) 436A.
WARNING: Some of these fiims are even more violent than the others. Viewer discretion is advised.
Wednesday, February 9

Mad Max (1979)
In a post-apocalyptic future, jaded motorcycle cop Max Rockatansky (Mel Gibson) is ready to retire. But his world is shattered when a malicious gang murders his family as an act of retaliation, forcing a devastated Max to hit the open road seeking vengeance. As he travels the Australian outback's empty stretches of highway, he tours the bloodstained battlegrounds ruled by marauding bikers who feed on violence.
Wednesday, February 23

The Seventh Sign (1988)
Around the world, the signs of the apocalypse—as outlined in the Book of Revelation—seem to be coming to pass in the wake of a mysterious wanderer. Father Lucci, the Vatican Emissary assigned to investigate, dismisses the occurrences as natural, but Abby Quinn (Demi Moore), a young American woman, has reason to fear they're real--and that the unfolding events may spell disaster for her unborn child.
Wednesday, March 9

Children of Men (2006)
Alfonso Cuaron directs this Oscar-nominated film version of P.D. James's classic dystopian novel, a futuristic drama set in a world in which humans have lost the ability to reproduce and subsequently face certain extinction. Things change when a single woman mysteriously becomes pregnant, prompting a conflicted government bureaucrat (Clive Owen) and his ex-wife (Julianne Moore) to join forces to protect her.
Wednesday, March 23

Zombieland (2009)
A cowardly shut-in named Columbus (Jesse Eisenberg) is forced to join up with a seasoned zombie slayer named Tallahassee (Woody Harrelson) in order to survive the zombie apocalypse. As Tallahassee sets out on a mission to find the last Twinkie on Earth, the duo meets up with Wichita and Little Rock, two young girls who have resorted to unorthodox methods to survive amidst the chaos. Reluctant partners in the battle against the undead, all four soon begin to wonder if it might be better to simply take their chances alone.
Wednesday, April 6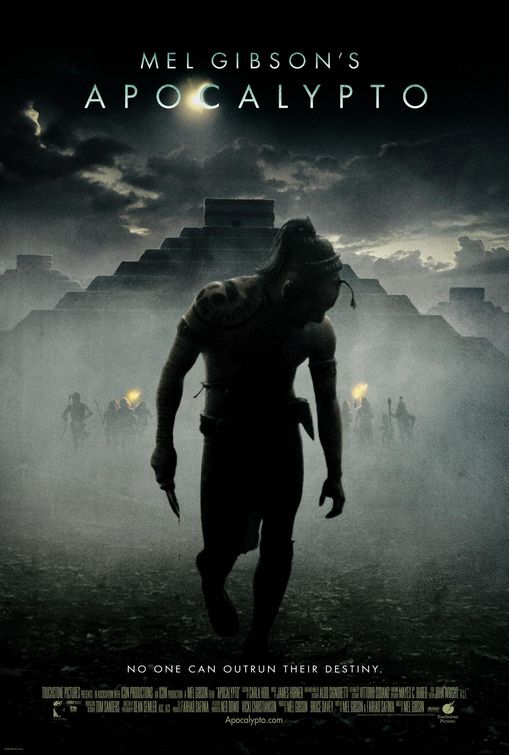 Apocalypto (2006)
Touching on themes of colonialism and the decline of civilizations, Apocalypto depicts the journey of a Mesoamerican tribesman during the declining period of the Maya civilization who must escape human sacrifice and rescue his family after the capture and destruction of his village.
Wednesday, April 20

Dr. Strangelove, or: How I Learned to Stop Worrying and Love the Bomb (1964)
Fearing the Russians are fluoridating American drinking water, a fanatical U.S. general launches an air strike against the Soviets. They raise the stakes by threatening to unleash a "doomsday device," setting the stage for Armageddon in this classic black comedy that brilliantly skewers the nuclear age. Directed by Stanley Kubrick, the film's star-studded cast includes George C. Scott, James Earl Jones and Peter Sellers (who won an Oscar for Best Actor).
Wednesday, May 4

The Day After Tomorrow (2004)
After years of unabated global warming, the greenhouse effect is wreaking havoc all over the globe in the form of catastrophic hurricanes, tornadoes, tidal waves, floods and, most ominously, the beginning of the next Ice Age. Paleoclimatologist Jack Hall (Dennis Quaid) tries to save the world while also shepherding to safety his son Sam (Jake Gyllenhaal), who was in New York when the city was overwhelmed by the beginnings of the new big freeze.
---