Graduate Organizations
Graduate Colloquium
Since 1987 the graduate students of the Department of Spanish and Portuguese at UT have organized a colloquium, whose mission is to further graduate student professional and intellectual development. Each year the event provides a space to present current research interests and to share all forms of work-in-progress. The first colloquium, officially called the "UT Colloquium on Hispanic and Luso-Brazilian Literatures and Romance Linguistics", was made possible through the effort of professors Madeleine Sutherland-Meier and Dale Koike, who received support from various academic departments across campus. At present the Department of Spanish and Portuguese Graduate Student Organization (GSO) works enthusiastically to coordinate the colloquium and to select its theme. True to its interdisciplinary nature, the colloquium is supported by several departments, organizations, programs and centers at UT, and continues to gather graduate students and independent scholars from across the US, Latin America and Europe. As part of each program the colloquium organizers invite distinguished keynote speakers to contribute to the discussion on campus.
Past literature keynote speakers include: Andrew P. Debicki (1987), Alan Deyermond (1997), Jean Franco (2000), Gustavo Pérez-Firmat (2002), Carlos J. Alonso (2003), Sylvia Molloy (2007), Francine Masiello (2008), Debra Castillo (2009), Aníbal Gonzalez Perez (2019), Emil' Keme (Spanish) and Patricia Pinho (Portuguese) (2021)
Past linguistics keynote speakers include: Evelyn Hatch (1987), Carmen Silvia Corvalán (1997), Roger W. Andersen (2000), John Lipski (2002 and 2008), James P. Lantolf, and Armin Schwegler (2003), Silvina Montrul (2007), Jonathan Rosa and Scott Schwenter (2009), Ana C Zentella (2011), Damián Vergara Wilson (2021)
Previous Colloquia
24th Colloquium, held February 25-26,2021
23rd Colloquium, help April 5-6, 2019
22nd Colloquium, held March 24-26, 2016
21st Colloquium, held March 22-24, 2014
20th Colloquium, held March 2-3, 2012
19th Colloquium, held February 25-16, 2011
18th Colloquium, held November 13-14, 2009
17th Colloquium, held November 7-8, 2008
16th Colloquium, held March 23-24, 2007
15th Colloquium, held April 2, 2005.
14th Colloquium, held April 10, 2004.
Graduate Student Organization
The Graduate Student Organization (GSO) was founded in 1970 as an educational student organization formed by graduate students, Assistant Instructors (AIs), and Teaching Assistants (TAs) in the Department of Spanish and Portuguese.
The main purpose of the GSO is to serve as a liaison between faculty, graduate students, AIs and TAs in the department. The goal is to help consolidate graduate students' opinions, concerns and ideas, suggest changes and modifications, and ultimately improve the quality of our program through departmental communication.
Board Duties:
President: Runs the GSO meetings, gives welcome speech at Orientation Day. Works with Language Program Supervisor, Grad Advisor, and Chair to relay messages from supervisors and professors to students. President and/or Vice-President must attend an annual Safety Education Workshop run by Hornslink at the beginning of the Fall semester. Can take on other projects depending on current needs.
Vice-President: Works in collaboration with the President. Supports current running GSO projects, such as the Humanities Series. President and/or Vice-President must attend an annual Safety Education Workshop run by Hornslink at the beginning of the Fall semester.
Treasurer: Collects GSO dues in October and distributes travel grants when requested by students.
Secretary: Manages SanchoPanza Listserv. Takes minutes at meetings and sends them to members of the GSO Board. Runs elections.
Graduate Student Assembly (GSA) Representatives (2 positions): Primary representative attends biweekly meetings of Graduate Student Assembly. Alternative representative fills in when primary cannot attend. Serves as liaison between GSA and S&P GSO.
Graduate Studies Committee (GSC) Representative: Attends some Graduate Studies Committee meetings lead by S&P faculty, in order to present suggestions or comments from the graduate students.
Hispanic, Luso-Brazilian and Linguistics Representatives (3 distinct positions): Attend annual GSC Course Planning committee meeting (Fall semester), also known as the meeting of the Executive Committee (EC) of the GSC. Organize meetings with students in the same track to touch base on progress.
Assistant Instructor (AI) Representative: Attends some of the supervisor's meetings every Wednesday and relays messages between AIs and supervisor.
Teaching Assistant (TA) Representative: Attends some of the supervisor's meetings every Wednesday and relays messages between TAs and supervisor.
Social Chair: Organizes social events throughout the semester.
Welcoming Chair: Organizes food and events during orientation. Helps with any Spring semester campus visits. The welcoming chair is also responsible for matching up prospective students with current students who are willing to host them during their visit.
Care Committee (2): Look after welfare of students by holding peer-advising sessions, researching and distributing on and off-campus wellbeing resources and organizing workshops. Maintain a goal of working towards the inclusion of diversity and cultural identities of all students in the Department of Spanish and Portuguese, as well maintaining fair power relations within the department. Work with Social Chair on social welfare issues.
Current GSO Board (Fall 2020 - Spring 2021)
President: Luis Avilés González
Vice-President: Amalia Merino
Treasurer: Vera Burrows
Secretary: Ashley García
GSA (Graduate Student Association) Representatives: Kaitlin Passafiume and Ricardo Castro
GSC (Graduate Studies Committee) Representative: Pilar Villanueva and Kelsey Bergeson
Hispanic Literature Representative: Ricardo Castro
Luso-Brazilian Representative: Vítor Cerqueira Dassie
Linguistics Representative: Víctor Garre-León
AI (Assistant Instructor) Representative: Jermani Ojeda
TA (Teaching Assistant) Representative: N/A
Social Chair: Mónica Ocasio-Vega
Care Committee: Haleigh Wallace and Yoel Villahermosa
Services & Important Activities
Travel grants: The GSO supports students with travel grants to attend academic conferences and workshops. To be eligible, graduate students must pay an annual fee of $25 collected by the treasurer in October. Students are responsible for requesting their travel grants when needed.
The Humanities Series: An opportunity for students to present their work and receive feedback. Some of the projects that can be presented include a draft of the Qualifying Paper, an article, or a dissertation chapter. The presenter is responsible for finding a moderator. Ideally, this person will be the advisor or a member of the student's dissertation committee.
Q&A Meetings: Graduate students that have already completed their Qualifying Paper, Dissertation Fields, and Proposal will hold informal meetings to share their experiences with students at the beginning of those stages.
SanchoPanza listserv: Managed by the Secretary of the GSO, it serves as an informal channel of communication among students. To subscribe, go to https://utlists.utexas.edu/sympa and follow the steps outlined below.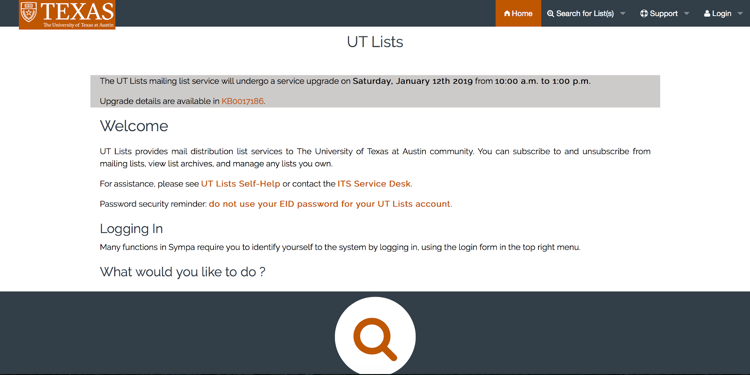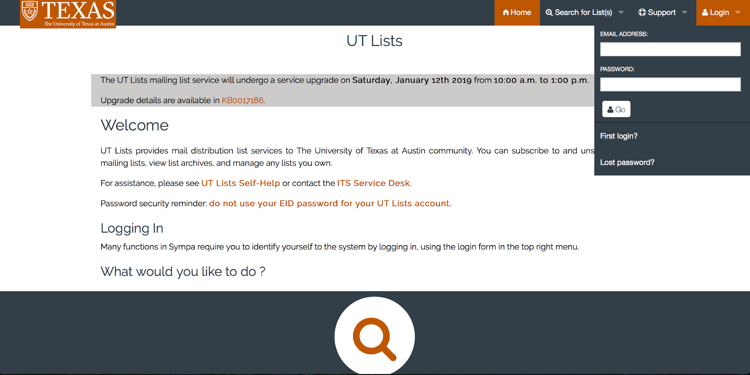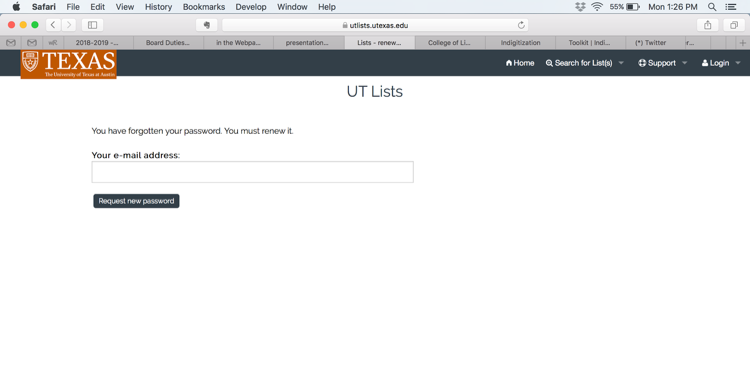 Pterodáctilo
Pterodáctilo is the Department of Spanish and Portuguese's graduate student publication of Hispanic and Lusophone literature and linguistics. The magazine was first published in 1984, under the name Dactylus, and flourished over the course of nineteen editions into a dynamic intellectual space highlighting critical and creative work undertaken both within the department and across the US and abroad. As Pterodáctilo, the publication has made the jump from the printed page to the internet. In its recently redesigned online format, the magazine has expanded to include a range of multimedia texts, from academic articles, poetry, fiction, and interviews, to video shorts, photography, and audio content. Of special interest is the Dossier Especial, a semesterly special section which highlights the work of graduate students from the department centered on a particular topic, in collaboration with members of the faculty. Over the last three semesters, Pterodáctilo has enjoyed contributions from over 10 countries, with notable collaborations from Ana Rossetti, Isabel Franc, Boaventura de Sousa Santos, Debra Castillo, Arturo Arias, Ricardo Rojas, María Gabriela Mizraje, Vicente Luis Mora and Agustín Fernández Mallo, among others.
Please visit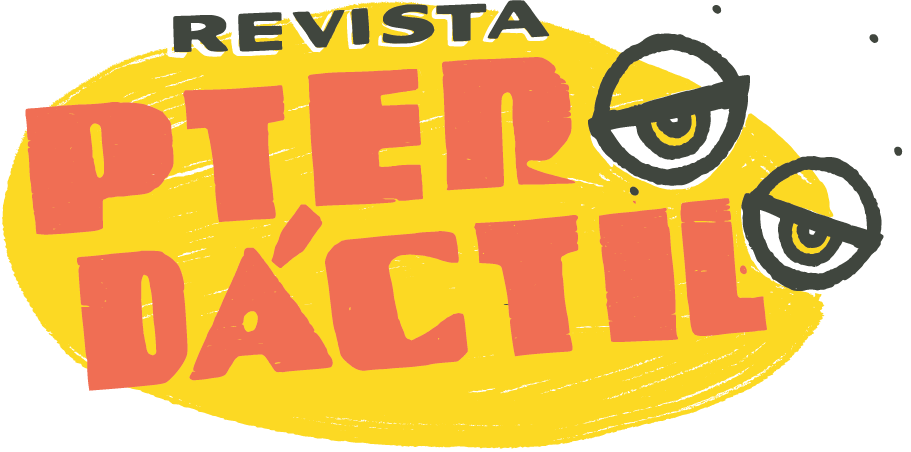 Sigma Delta Pi, National Collegiate Hispanic Honor Society, Zeta Chapter (La Sociedad Nacional Honoraría Hispánica, Sigma Delta Pi, Capítulo Zeta)
Sigma Delta Pi is an honor society for both graduate and undergraduate students of Hispanic languages and cultures. Its purposes are as follows:
Honor those who seek and attain excellence in the study of the Spanish language and in the study of the literature and culture of the Spanish-speaking people;
Honor those who striving to make Hispanic contributions to modern culture better known to English-speaking people;
Encourage college and university students to acquire a greater interest in and a deeper interest of, Hispanic culture; and
Foster friendly relations and mutual respect between the nations of Hispanic speech and those of English speech.
Membership Requirements:
Have 18 hours of university level Spanish.
These hours should include at least 3 hours (one course) of Hispanic or Latin American literature (course number SPN 325K or higher) or 3 hours of Spanish culture and civilization (SPN 322K or SPN 328). Also, these courses should be completed or students must be currently enrolled in them upon application.
A GPA of 3.00 in classes you have taken in the Spanish Department.
A GPA of 2.75 in all of the classes you have taken at the University of Texas.
Participate in the initiation ceremony.
Apply Here (Deadline March 4th, turn in at BEN 2.108).
For more information about Sigma Delta Pi, please visit the Website, the Facebook page, or send an email to sigmadeltapizeta@gmail.com.