Moscow Plus Program
COVID-19 Update
Due to ongoing uncertainties surrounding COVID-19, the Moscow Plus program will not be offered during Summer 2022.
Learn More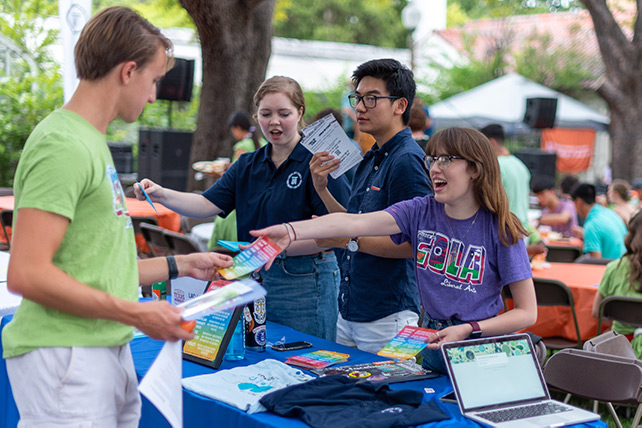 Click here for the recording of this year's virtual information session!
History
In 2002, the Department of Slavic and Eurasian Studies at The University of Texas at Austin introduced an innovative summer study program, the Moscow Plus Program, which provided students with a program of intensive study of Russian language and culture in Moscow. Since then, the program has evolved into an in-country program for developing advanced language skills and cultural literacy for students wishing to understand better life and living in the Russian capital city!
Program Overview
The new Moscow Plus Program still provides first-rate intensive classes in Russian language and culture, and instruction is not confined to the classroom. Students have opportunities to reinforce their communication skills in real-life situational environments all over the city of Moscow: in shops, restaurants, business and government establishments—wherever Russian is used in specific situations. Students enroll only for the Second-Summer Session, and will receive six weeks of instruction and participate in cultural excursions and a weekend in St. Petersburg. A UT Resident Director accompanies the group for the duration of its time abroad.
Courses in Language and Culture
Participants will take courses in language and contemporary culture, and receive six total hours of UT credit, three hours each for RUS 319S Russian Sociolinguistics and RUS 329S Experiential Russian Culture, which carries a Global Cultures flag!
Note that students must have taken two years of Russian or the equivalent (e.g., Intensive Russian) to participate.
These courses are taught by Moscow International University faculty Monday through Thursday for four hours a day. On Fridays students do the in-city practicum, reinforcing skills from the previous week's instruction, outside the classroom. Students are also paired with Russian peer tutors to assist with coursework and help immerse them in the local culture. A full time UT Resident Director staffs the program in Moscow.
Language of Instruction: Both courses are taught in Russian.
Faculty: Second summer session taught in Moscow by Moscow International University faculty, with a full-time UT Resident Director. The Moscow Plus Faculty Program Director is Dr. Thomas J. Garza.
Academic Information: Moscow Plus students earn three hours of credit for each course, totaling six hours for the single second-session Summer term.
Funding Resources
Foreign Language and Area Studies (FLAS)
The Moscow Plus program is eligible for funding through the FLAS program in CREEES. If you have a clearly defined reason why the study of Russian would help you in research/study about a country in Western or Central Europe, such as Russian immigration to Germany, the Center for European Studies (CES) FLAS Program is another fellowship opportunity.
Texas Global
Texas Global shares scholarships, grants, financial support programs, and other funding considerations for study abroad on their Funding Resources page.
College of Liberal Arts
The College lists many scholarship and fellowship opportunities available to students in the College of Liberal Arts on their Scholarships and Awards page.
Eligibility
The Moscow Plus Program is open to current UT students from all colleges and schools who have taken a minimum of two years of Russian or the equivalent (e.g., Intensive Russian). It is also recommended that students have a minimum 2.5 GPA and are in good academic standing. Students must provide two references and a short essay as well as complete a Study Abroad application (which has a non-refundable fee). Please see the Application Process page for details. Note: Meeting the minimum requirements does not guarantee acceptance!
Housing
Students live in dormitory-style housing. A double room with an ensuite bathroom is typical. On-premises cafeteria provides breakfast and lunch. Students must adhere to all dormitory rules, including a strict no alcohol policy.