Education Abroad in Vienna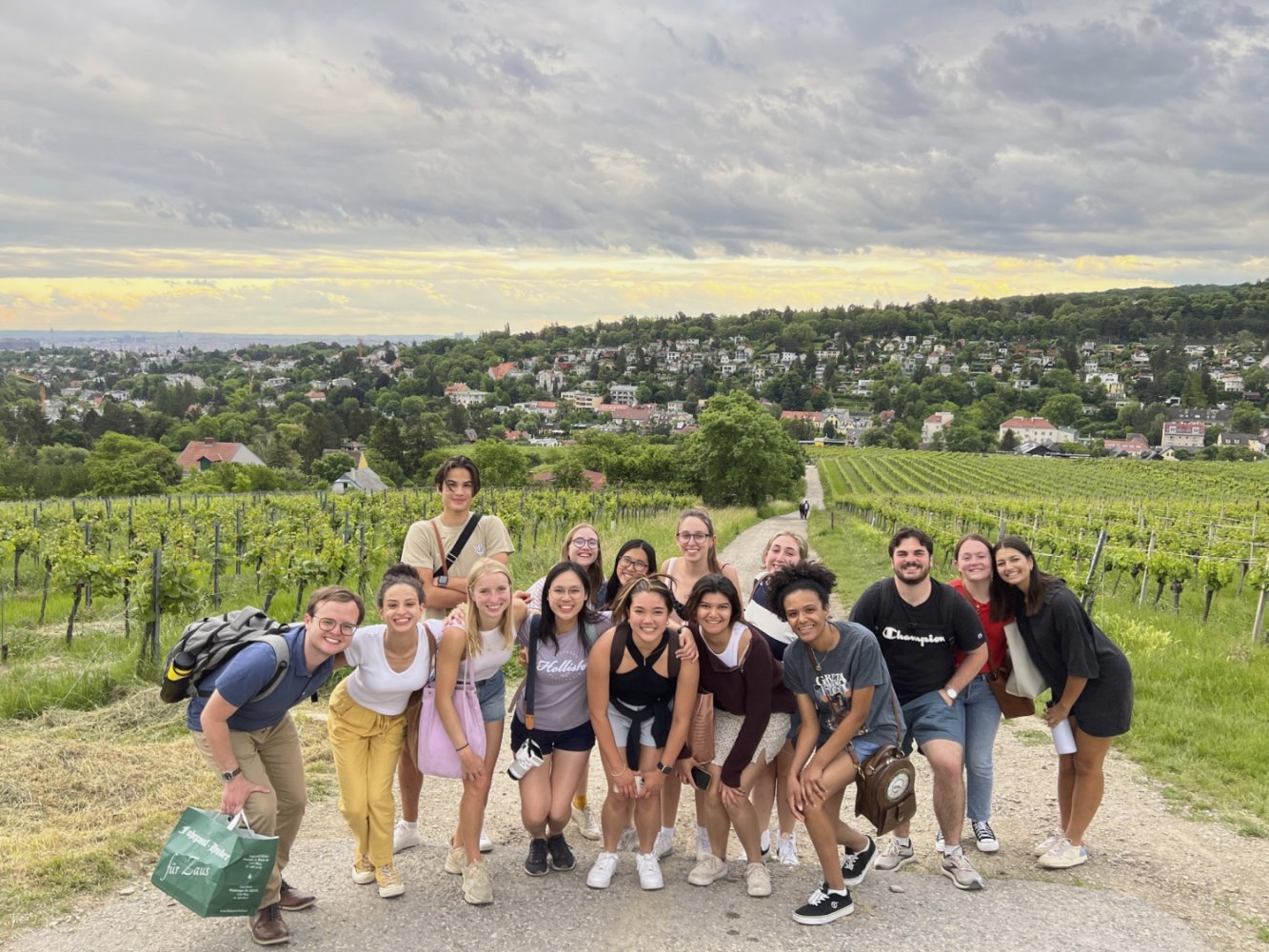 Education Abroad in Vienna, Austria, during June 2023!
This intensive, month-long course takes place during the first summer session, beginning after the spring exam period and concluding prior to the second summer session. Drawing on the perspectives from history, geography, and urban studies, "Memory and the City" investigates the ways in which cultural memory has shaped, and continues to shape, urban life in one specific place: Vienna, Austria. With the city as our laboratory, students examine theoretical discussions of memory and the city in a provocative geographical setting. We will visit museums that house the artifacts and attend the cultural events so important to Vienna's collective memory.
Students earn three semester credit hours for the course, but will receive much more. According to those who have previously taken the course, it can be a life-enriching experience. In addition to the study of urban history, the course readings, the instructor and guest lectures, the films, the class excursions, and the meetings with Austrian students and teachers, perhaps the most striking feature of the program is the personal development and intellectual growth it fosters.
Participants speak about their experiences in Vienna...
Rachel Vaughn (Plan II, History)
I recall reading through testimonials of previous students in this program, and being surprised at how vehemently people adored it, and now I understand and have joined their ranks. I probably pinched myself every day of the Vienna education abroad course, just to make sure that this was real, that I wasn't living in a movie, or a dream, and I wouldn't wake up bereft of the experience or the memories. I had to be sure that I was really zooming through the Austrian countryside or laughing hysterically with amazing new friends, or that I was really wandering through cobblestone streets and, despite warnings from almost everyone, tripping in heels on said cobblestone streets, that I was truly learning about history, cities, music, art, geography, memory in the places that they had happened from experts in their fields, and of course the greatest expert of all, Professor Hoelscher. There's really no one better suited to organize and lead a group of initially clueless students around Austria, no one better to encourage and draw even shy people out of their comfort zones, no one better to infuse the class with a sense of adventure, spontaneity, and wisdom. There's also no program better, as I am now convinced, to give people a taste of life and learning abroad that I will treasure for life. I treasure many gorgeous mountain hikes and views, and world-class art museums, public parks and fresh strawberries, climbing four stories to an apartment, eating (way too much) just the right amount of ice cream, ordering sandwiches in rudimentary German, and above all the lovely people I now call dear friends. I'm on the other side of it now looking back, and I suppose I have woken up, but I carry the people, the place, the yellow city of Vienna in my dreams, in my heart, in my memory.

Hear more from the students who have taken the Vienna course: student comments
Learn More