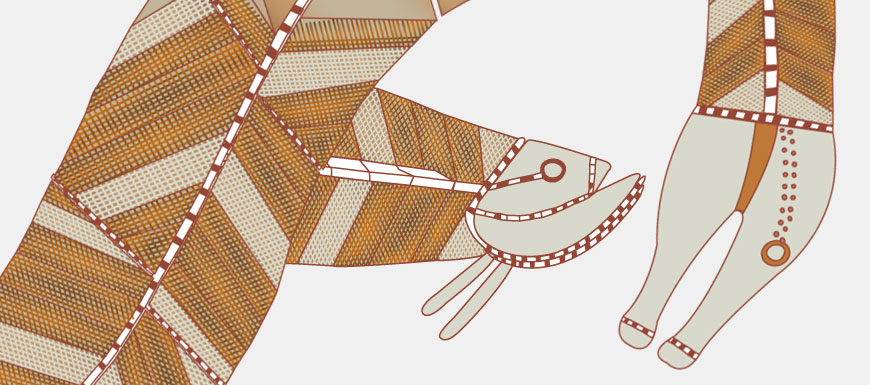 The Institute for Historical Studies Presents Workshop on Governance in Colonial Australia
Dr. Wm. Matthew Kennedy and the Institute for Historical Studies in the Department of History invite you to "From Barataria to Utopia: Economic-Positivism and Scientific Governance in Papua/Australian New Guinea, ca. 1880-1940". This workshop will be located at GAR 4.100 on December 3rd from 12:00pm to 1:30pm. This event is free and open to the public. RSVP and receive a copy of the pre-circulated paper by e-mailing cmeador@austin.utexas.edu by 9am on November 30th. To learn more about the event visit https://liberalarts.utexas.edu/historicalstudies/events/47550. To read Dr. Kennedy's work visit https://utexas.academia.edu/WmMatthewKennedy.
Clark Center Forges Links to Australian Studies Center in 

China
Clark Center Director Dr. Rhonda Evans traveled to Beijing in early November to participate in Australian Culture Week, an annual event hosted by the Australian Studies Center located in the School of Foreign Languages at Renmin University. This year's program offered perspectives on Australia from three speakers. Dr. Evans, the first American scholar to speak at Renmin University's Center, delivered a series of three talks that addresses issues concerning Australian culture, politics, and policy. Edwin Maher and Dr. Alexis Lavis rounded out the program. Maher, a Kiwi, spent decades working as a journalist in Australia before becoming the first non-Chinese news reader on CCTV International. Dr. Lavis is a French philosopher who has published widely on topics concerning Confucianism, Taoism, and Buddhism. Renmin University's Australian Studies Center, one of 40 such centers located across China, is directed by Professor Yongxian Zhang. It is China's largest of these Centers and boasts over a hundred graduates with advanced degrees. Professor Zhang, author of From English to Globish: A Socio-Cultural History of the English Language, attended the University of Melbourne and worked for the Chinese Embassy in Canberra before launching the Australian Studies Center at Renmin University in 1999.
Whitlam Institute Opens Submissions for Research Fellowship
The Whitlam Institute of Western Sydney University is calling for applicants to the E G Whitlam Research Fellowship. Candidates should be interested in contributing to public policy projects that align with Gough Whitlam's vision of 'building a more equal, open, tolerant and independent Australia'. Applications must be submitted by November 30, 2018. More information may be found on the Whitlam Institute's website. 
Center Hires its First Postdoctoral Fellow
Please join us in welcoming Andrew Gibbons, a newly-minted Ph.D. from the University of Melbourne. Andrew Gibbons' doctoral project examined media reporting of policy issues in Australian elections over the twenty-first century. His research interests focus on political communication, elections, policy agendas, and promissory representation. His research has been published in several outlets, including the Australian Journal of Political Science. Andrew's recent projects include a study examining whether political parties fulfil the promises they make during Australian elections. He has also completed a project examining the weaponisation of 'fake news' in Australian political discourse.  From 2013 to 2015, Andrew served as the research officer on the Australian Policy Agendas Project where he conducted research on legislative and media agendas. During the 2016 Australian election, he was the research officer on the Vote Compass project—a collaborative partnership between the University of Melbourne and television broadcaster the ABC. The Vote Compass tool collected over a million survey responses during the 2016 campaign.  Prior to joining the Clark Center, Andrew was a sessional lecturer in Australian Politics at the University of Melbourne. He has taught undergraduate and postgraduate subjects on Australian politics, campaigns and elections, strategic political communication, politics and the media, and social research methods.
Dr. Jonathan Crowe Visits from Bond University
Jonathan Crowe is Professor of Law at Bond University, Gold Coast, Australia. He will be visiting at UT Austin until May 2019. His main research interests are in legal and ethical theory, Australian constitutional law, public international law, and dispute resolution. He will be using his time at UT to work on a book on theories of justice, focusing on the ideas of the French philosopher, Emmanuel Levinas. Prof. Crowe is an Honorary Life Member of the Australasian Society of Legal Philosophy, having served as its President from 2014 to 2018, and a former President of the Australian Dispute Resolution Research Network. His most recent book, entitled Natural Law and the Nature of Law, will be published by Cambridge University Press in 2019.
Sierra Rowe Joins the Clark Center
Sierra Rowe, a Senior from San Marcos, Texas, serves as the Clark Scholar this year. She is working on a project measuring political salience of High Court cases in New Zealand.
Sierra started working with the Clark Center in spring of 2017. She is a senior majoring in government and pursuing a global business certification. Her interest in the social sciences developed while working on a Comprehensive Youth Master Plan, with her hometown city council. Sierra interned for Battleground Texas and Congressman Lloyd Doggett.
Sierra loves to travel and has international experience in twenty-four countries to date. She shows keen interest in learning about global society particularly in the Asia/Pacific region of the world. In the spring of 2016 she studied abroad at the National University of Singapore. Sierra currently works for a medical malpractice group within a local law firm. After graduation, Sierra plans to return to Asia to teach English in China before pursuing graduate education. 
Christine Bird Joins the Clark Center
Christine C. Bird joins the Clark Center as the newest Director of Undergraduate Research. Christine is currently a PhD student in the Department of Government at UT-Austin specializing in public law. Christine holds a juris doctorate and a license to practice law in her home state, Oklahoma. During law school, Christine held internships with the Oklahoma Supreme Court, the Equal Employment Opportunity Commission, and in private litigation. Due to her legal background, Christine's research interests lie on the intersection of law and politics and the development of civil rights movements. She specializes in constitutional law, civil rights, judicial politics, and American political development. Outside of academia, Christine enjoys live music, yoga, and Texas barbeque. You can follow her on Twitter, @ChristineCBird.
Christine follows Maraam Dwidar who accepted a position as the Director of Undergraduate Education and Research for the Policy Agendas Project. For updates on Maraam's work and research you can follow her on Twitter or check out her website here.

American Australian Association Announces 2017 Scholars
The American Australian Association has announced the appointment of their 2017 Australia to USA Scholars in science, technology, sustainability, and medicine. More information may be found on their website.
Clark Center Director to Speak at Western Sydney University
Dr. Rhonda Evans, the Director of the Edward A. Clark Center for Australian and New Zealand Studies, will give a talk on August 9, 2017, at Western Sydney University. She will discuss a paper arguing that Australia's policy on border protection, the "Australian model," is politically self-sustaining. More information on her upcoming talk, as well as more details about the paper, may be found here.
Clark Center Partners with Men's Basketball Team
The University of Texas Men's Basketball team will participate in a 12-day, four-game tour of Australia from August 12-23. To help them get the most out of their trip, Clark Center Director Dr. Rhonda Evans taught the student-athletes a one-credit hour summer course on Australian history and culture. Classroom meetings have wrapped up, and Dr. Evans will meet up with the team in Melbourne, joining them on several outings and attending a game.
The team's trip, which includes stays in Melbourne, Cairns and Sydney, will mark just the second overseas summer tour by a UT men's basketball team and first since the program visited Australia in the summer prior to the 1996-97 season. During the four-game exhibition schedule, the Longhorns will play three professional teams that compete in Australia's National Basketball League (NBL): Melbourne United, Cairns Taipans and Wollongong Hawks. UT will open its exhibition schedule against the Dandedong Rangers, a professional team that competes in the Australia State League (one level below the NBL).
While in Melbourne, the team will visit Eureka Tower and tour Queen Victoria Market and the Royal Melbourne Zoo. The Longhorns also will face the Dandenong Rangers (Tuesday, Aug. 15) and Melbourne United (Wednesday, Aug. 16).  During the three days in Cairns, the UT travel party will tour Kuranda Village and the Great Barrier Reef. The Longhorns also will play the Cairns Taipans (Friday, Aug. 18). In their final three days in Sydney, the team will tour Bondi Beach and SEA LIFE Sydney Aquarium. The Longhorns will face the Wollongong Hawks (Monday, Aug. 21). 
Visit this page for more details about the course, and for more details about the team's trip, view the schedule here.
ANSZANA Opens Sumbissions for 2018 Meeting
The Australian and New Zealand Studies Association of North America (ANZSANA) has opened up submissions for its 2018 annual meeting, which for the first time, will be held in Mexico.  The call for papers and more can be found on ANZSANA's new website. Join ANZSANA in Guadalajara!
Australian Studies Symposium to be Held in China
The newly established Australia Studies Center at Shanghai Jiao Tong University, the Australian Center at the University of Melbourne, the National Centre for Australian Studies at Monash University, and the Australian Studies University in Tsinghua University will hold a symposium in Shanghai on the city campus of Jiao Tong University, 27-29 October 2017. Scholars from Australian Studies Centers around the world are invited gather to discuss their research, institutional priorities, and resources and consider ways in which their centers might collaborate and develop an international Australian Studies network. China, alone, has a significant number of Australian Studies Centers, and there are at least fifteen other Centers located around the world, including here at UT-Austin. Those who attend the symposium might also consider participating the Australian Studies conference hosted by Jiangsu Normal University, Xuzhou on 1-3 November. Participants must register for the symposium by 15 August. Abstracts for papers must be submitted by 31 August.  For more information, click here.
Rosa Muñoz: Report From a Longhorn "Down Under"
In 2016, the Clark Center provided a supplementary scholarship to Rosa Muñoz, a psychology major at UT-Austin, that enabled her to spend a semester at the University of Sydney. Rosa spent six months overseas. It was her first experience traveling abroad, and she made the trip to Sydney alone. The magnitude of the journey struck her as she sat in the plane awaiting take-off and contemplating the fact that she would spend the next 16 hours in the air over the Pacific Ocean. Although Rosa had long wanted to study abroad, she says that "never in a million years" did she expect to have this opportunity.
Rosa completed four courses, including a graduate-level psychology class. By far, she most enjoyed a course entitled Learning in Outdoor Education. Students from around the world were enrolled and the course involved experiential learning exercises and hiking in the Blue Mountains and the Royal National Park. Rosa also worked as an intern with the Blue Knot Foundation, a national organization that provides assistance to adults who have experienced childhood trauma. She found the workplace there to be "more relaxed" in Australia than in the United States. Rosa also found that the courses were structured differently at the University of Sydney than what she was accustomed to at UT-Austin, and she had to alter her study habits in order to prepare for a different style of evaluation. Finally, in Sydney, Rosa had to rely on public transportation to get to campus as well as around the city—another change from life in Austin. As a result of these differences, Rosa had to learn to manage her time better.
In addition to the kindness of the Australian people, Rosa was struck Australia's natural beauty. During a visit to the Great Barrier Reef, she learned firsthand about the damage that the Reef has sustained as a result of global warming. From this experience, Rosa gained a deeper understanding of the challenges that humankind faces in preserving the environment. Her travels also took her Tasmania. Beyond Australia, Rosa visited Thailand, an experience that enabled her to appreciate the differences between developed and developing countries.
Rosa's study abroad experience turned her into an evangelist for international travel. She says: "The next time you get the opportunity to hop on a plane and go somewhere out of your comfort zone, do it! That is how you grow, that is what makes life so precious and unique. All the experiences you make, memories you create, people you meet from different parts of the world end up being something so special. I am grateful to have been able to experience this and happy to say that it has made me into a better person. Cheers to that, mates!"
Apply to be a Clark Scholar for 2017-2018!
Would you like to spend the upcoming academic year learning how to conduct research and pursuing an original research project of your own? Are you interested in receiving one-on-one mentoring by faculty and graduate students? Would you like to travel to either Australia or New Zealand to present your research findings and assist UT-Austin faculty with their research "in the field"? If you answered "yes" to any of these questions, then you should consider applying to be a Clark Scholar. 
Learn more about the program and application process at an informational session that will be held in BEN 1.124 on Monday, April 10 at 6:00 pm. View a detailed description of the Clark Scholars program here and download the application here.