Department of Economics Commencement
Saturday, May 21, 2021| 9:00-11:00am | Gregory Gym | Speaker Dr. Julia Coronado
Links: Live recording | Key Note Speech | Program
Please contact Denisse Sanchez at 512-475-8507 if you have any questions.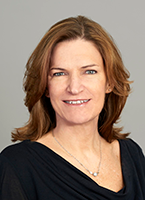 Bio
Julia Coronado is founder of the economic research firm MacroPolicy Perspectives and a Clinical Associate Professor at the McCombs School of Business at University of Texas at Austin.
Prior to starting MPP, Julia was Chief Economist at the hedge fund Graham Capital Management and the global investment bank BNP Paribas, and a Senior Economist at Barclays Capital. Julia received her B.A. in Economics from University of Illinois Urbana then worked for several years in the Texas banking industry in the aftermath of the savings and loan crisis. She then enrolled in the University of Texas at Austin.
After receiving her Ph.D. in Economics from UT, Julia worked as a staff economist at the Federal Reserve Board of Governors in Washington D.C. for eight years. Julia has published a number of scholarly articles on issues related to pension finances and market valuations, social security, and retirement saving adequacy and behavior.
Julia has represented the US at OECD meetings on financial market issues and has testified before the US Congress on Social Security reform. She has been a member of the Economic Advisory Panel of the Federal Reserve Bank of New York and is currently on the Economic Studies Council at the Brookings Institution. Julia is also on the Board of Directors of Robert Half International and Dynex Capital and serves on the Advisory Boards of the Pension Research Council at the Wharton School and the Cleveland Fed's Center for Inflation Research. She is currently the Vice President of the National Association of Business Economists and served previously as President of the New York Association of Business Economists. Julia is a regular commentator in financial media, including CNBC, Bloomberg, Marketplace, and the Wall Street Journal.
REGALIA
Graduating students are required to wear Academic Regalia.
Undergraduates: Please order your regalia at the University Co-Op. The tassel and stole color is white.
Masters: Regalia is available for loan. Please contact Kristen Hotopp for additional information.
Doctorates: Please order your regalia at the University Co-Op.
CEREMONY
Please arrive at Gregory Gym at 8am using the entrance on the ground floor of Speedway to check in for line-up.
Undergraduate students will earn Bachelor of Arts degrees.
Students will be individually recognized as they walk across the stage.
All Liberal Arts majors are read for each student.
A professional photographer will take pictures of students as they cross the stage.
Do not bring valuable personal belongings, such as purses and backpacks, to the ceremony.
Please mute phones during the procession and ceremony.
Gregory Gym doors will open at 8:30am for family, friends, and guests. No ticket is required.
Live Stream: The ceremony will also stream live online, starting at approximately 9am on May 21.
PARKING
Parking garages and most surface lots are free. However, please do not park in spaces that require a parking permit "At All Times."
A nearby garage is the San Jacinto Garage, 2401 San Jacinto Blvd. (After the ceremony ends, getting out of Brazos Garage can be incredibly difficult. There will be a lot of traffic on MLK Blvd.)
MOBILITY IMPAIRED GUESTS
Accessible seats are available inside Gregory. Staff will assist mobility-impaired guests with seating.
Please note: 21st street will be one-way heading east. Near Gregory Gym, there will be a drop-off location at the intersection of Speedway and 21st St.
RECEPTION
A reception will take place immediately following the ceremony at the Glickman Conference Center (College of Liberal Arts Building, CLA 1.302; aka Patton Hall, RLP 1.302). You and your guests are invited to attend.
Saturday, May 21, 2022 | 8pm | UT Tower | Speaker Emmanuel Acho
After individual recognition in college and school convocations, degree candidates from all disciplines come together at the Tower for the university-wide commencement ceremony.
EVENT DETAILS
Graduating students are required to present a ticket for the Grand Procession. Free procession tickets are available at the Frank Erwin Center Red River Box Office and Texas Performing Arts Center Box Office with UT student ID. Graduate seating cannot be guaranteed without a Procession Ticket. Please secure your ticket in advance.
TICKETS
GUESTS
To reserve your tickets, please go the event link.
Select "Finde Tickets".
Scroll to the bottom. Select the desired number of tickets. Add the tickets to the cart and check out.
Reminders
Graduating students are required to wear Academic Regalia.
Graduating students will not be individually recognized at this ceremony.
Tab 4. Add body text in this space.
Tab 5. Add body text in this space.