ODE at UT Austin
Omicron Delta Epsilon Economics Honor Society at UT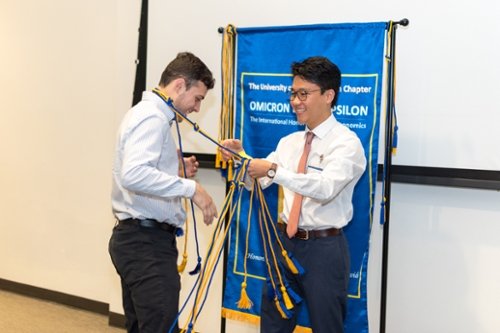 About Omicron Delta Epsilon Honor Society
Omicron Delta Epsilon is one of the world's largest academic honor societies. The objectives of Omicron Delta Epsilon are recognition of scholastic attainment and the honoring of outstanding achievements in economics; the establishment of closer ties between students and faculty in economics within colleges and universities, and among colleges and universities.
Upcoming Events:
Please join our GroupMe for the most updated information.
Question(s)? Email Jana Cole at jana@austin.utexas.edu
Joining ODE at UT

ODE at UT is the University's chapter of Omicron Delta Epsilon - the international honor society for economics.

Eligibility Requirements:

3.0 overall UT GPA minimum
3.5 Economics GPA minimum (based on Economics courses taken at UT)
12 hours of Economics coursework (typically four ECO courses) already completed.

Current semester classes do NOT count toward the required 12 hours. Completed in-residence, transfer credit, and claimed credit-by-exam classes DO count. Calculus does NOT count.

HOW TO APPLY

Fill out the online application. Spring 23 deadline has been extended to Sunday, March 5th.
Wait for an acceptance confirmation email, then pay for membership (acceptance confirmation may take a few days).

MEMBERSHIP DUES
A one-time payment of $40 covers membership to the local and national chapters. Payment instructions will be included in the acceptance confirmation email.

Benefits: Lifetime membership in the ODE International Honor Society, an individualized ODE certificate & membership card, free online access to The American Economist, honor cord at graduation, UT chapter events, opportunity for leadership roles, and networking.

The Philosophy of Omicron Delta Epsilon


Omicron Delta Epsilon is dedicated to the encouragement of excellence in economics. It encourages devotion on the part of its members as economists to the advancement of their science and to the scholarly effort to make freedom from want and deprivation a reality for all humankind.

To learn more about the International Society of Omicron Delta Epsilon go to: http://www.omicrondeltaepsilon.org/ (Do NOT fill out the application posted on this website.)

Mission of UT Chapter of ODE


The mission of the UT ODE Chapter is to make ODE a place for students to find mentorship, particularly if you're interested in research/graduate school. In an effort to do so, we sponsor activities open to all students. Joining as an official member still brings additional benefits, such as connection to the International ODE community, an individualized ODE certificate & membership card, free online access to The American Economist, an honor cord at graduation, as well as the opportunity to join the ODE leadership team.

Accordion 4

Panel 4. Add body text in this space.

Accordion 5

Panel 5. Add body text in this space.