Elizabeth Scala
---
Professor

—

Ph.D., 1994

,

Harvard University
Ellen Clayton Garwood Centennial Professor of English, Graduate Advisor for Medieval Studies, Director of English Honors Program
Interests
---
Chaucer; the history of Chaucer studies; the textual environments of medieval literature.
Biography
---
Broadly interested in the ways medieval texts survive in the modern world, I work at the intersection of medieval and post-medieval studies, a way of thinking about literary history that encompasses and defies traditional historical boundaries of English Studies. I seek to understand and emphasize the ways medieval texts remain with us, in whatever disguised and altered forms and in new media. My classes include the plays of Shakespeare, gothic and Romantic medievalism, Victorian book history, children's fantasy literature, and modern film. But I also teach the medieval texts themselves, along with their classical precursors, to show students how much the issues that they care about now are alive in some of the earliest literary productions the West knows.
My own work focuses on Chaucer, critical theory, and the textual environments in which Chaucer's work proliferates and survives in both medieval and modern forms. I have become interested in and teach with the Renaissance editions of Chaucer, of which we have a unique archive available at UT in the Harry Ransom Center's Pforzheimer Collection. These form part of one current research project, Shakespeare and the Renaissance Chaucer Book, which seeks to understand the playwright's use of the medieval poet in the context of early modern book culture. Part of this project will appear shortly in the newly redesigned TSLL. (https://utpress.utexas.edu/journals/texas-studies-in-literature-and-language).
I am also interested in the history of the book and book design, having taught courses on the Illustrated Canterbury Tales and working on children's book illustration as it has spoken to our understanding of Chaucer in both acknowledged and unacknowledged ways. One such essay on the Nun's Priest's Tale has appeared in Word & Image. http://www.tandfonline.com/doi/abs/10.1080/02666281003603260?needAccess=true
As part of the Digital Humanities Initiative, I am designing a digital census of Chaucer editions, 1532-1687 in collaboration with colleagues at other campuses. For this project, we will examine, catalogue, and describe all surviving copies of Chaucer's Works printed in this period, from Thynne's first collected edition (1532) to the final reprint of Speght's second edition just before the turn of the eighteenth century, when Dryden began the next phase in the production of Chaucer by translating him for modern readers (1700). This collaborative project is in the planning stages and will seek major grant funding for graduate training as well its travel to various worldwide archives.
I am also currently writing a short guide to The Canterbury Tales for beginning readers and teachers of Chaucer's poem for W.W. Norton. I teach this poem often in both British survey courses and in a class devoted to Chaucer himself, which many of my graduate students take while in coursework in the graduate program. When they do, I include a survey of Chaucer scholarship from the earlier 20th century or we work together on another more specific topic alongside a general survey of the tales. My teaching of Chaucer has always been central to my publishing career. My latest book is drawn from my work teaching this course: Desire in the Canterbury Tales (Ohio State UP, 2015; pb, 2016; https://ohiostatepress.org/books/BookPages/scala-canterbury.html).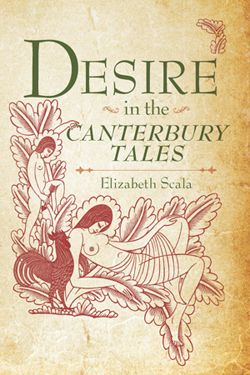 While teaching at UT and being involved in various research initiatives on campus, I am also one of the principal editors of the internationally recognized journal Exemplaria: Medieval / Early Modern / Theory (http://www.tandfonline.com/loi/yexm20). We have hosted two Symposia on UT's campus jointly sponsored with the journal. The latest one is scheduled for March 29, 2017.
The journal offers a variety of editorial experience to both graduate and undergraduate students in basic copyediting and the review and production process.
Curriculum Vitae
---
Profile Pages
---
External Links
---