Faculty Spotlight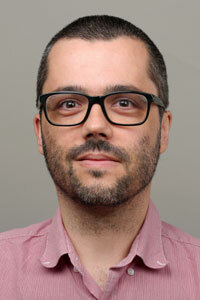 Hervé Picherit received his PhD in French Studies from Stanford University (2008) and has been a member of the Department of French and Italian at UT since 2012. The questions framing his research interests are about individual and shared strategies of aesthetic self-fashioning, in particular those that individuals or groups adopt in the face of traumatic upheavals. In pursuit of these questions, he has explored the fields of twentieth century French literature, the novel, film, and the avant-garde. His book Le Livre des Écorchés: Proust, Céline et la Grande Guerre (CNRS Éditions, 2016) explores the very different approaches at self-fashioning and at the creation of collective identity that the novelists Marcel Proust and Louis-Ferdinand Céline deploy in reaction to the material and cultural devastation of the Great War. He has also published articles on film — Chris Marker, Alfred Hitchcock, the actress Arletty, Louis Feuillade's film serial Les Vampires — as well as avant-garde figures such as Alfred Jarry, André Breton and Georges Hugnet.
In his current project, "Literature of Collaboration and Resistance: Poetic Strategies in Occupation France from 1940-1944," he studies the particularities of fascist and anti-fascist rhetoric in the context of the German Occupation of France. In its broadest terms, his project poses the question of the relationship between ideology and form, between the proposed subject of a text and the way it is actually written. In the case of the collaborationist texts, to ignore the role of figurative language is to overlook how clearly irrational, deplorable, and genocidal ideologies can be framed as reasonable, laudable, and even virtuous. In the case of resistance texts, disregarding literary form is tantamount to neglecting an invaluable weapon in the fight against fascism. His project attends to discovering, naming, and analyzing the rhetorical and figurative tools that both fascist and anti-fascist writers deployed in order to circulate their ideas and cultivate a readerly audience. Understanding which literary tools were selected, and how they function to influence readers, is key to developing a nuanced understanding of how fascism gains cultural momentum, and how we can resist it.
This work has also lead him to consider how various media represent the Second World War in both "prestigious" forms (novel and film), and in popular cultural artifacts (games and television).
Dr. Picherit will be teaching FR 391K: Im/Possible Narratives: Remembering, Witnessing, and Imagining WWII and the Holocaust in Fall 2022.