Understanding Migration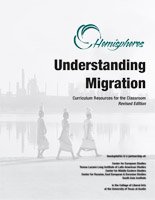 Understanding Migration was conceived in response to numerous requests from educators and curriculum specialists concerning the presentation and discussion of issues related to human migration in the social studies classroom. What are the reasons that large groups of people have found themselves moving from place to place? What effects does this movement have? And most importantly, how can such a fluid and nebulous concept be presented in a classroom in an easy-to-follow manner with clear lesson objectives and outcomes? Regional case studies were chosen to address these, and other, essential questions. Where possible, we have used primary source documents to present the information in each case study.
A standards alignment chart for the Texas Essential Knowledge and Skills (TEKS) and the National Standards for Geography Education is included in the full version of the unit.
This unit was revised in 2011 to reflect the updated Texas Essential Knowledge and Skills approved by the Texas State Board of Education in 2010. The revised version also includes updated information, assessment activities, and incorporates changes suggested by educators based on classroom use.
Understanding Migration — Download the full unit (8 MB — not recommended for users with dialup or slow internet connections).
Note: some files may require Adobe Acrobat Reader version 8.0 or higher.
Download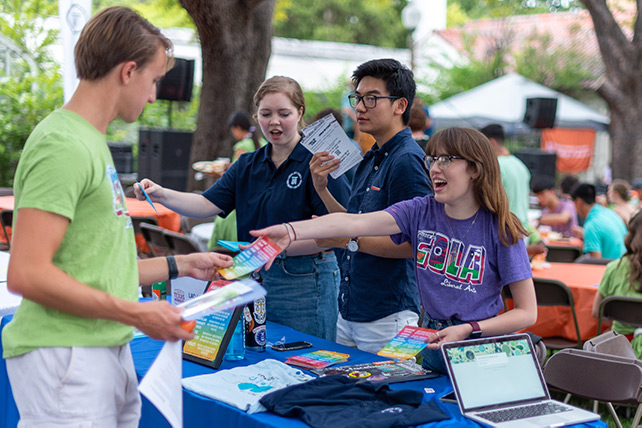 Or download specific sections:
Section 1: An Introduction to Migration

You can also download a ready-to-use PowerPoint presentation that explains the causes and effects of human migration (the points raised are the same as those presented in the video). Descriptions and full explanations, along with historical examples, can be found in the notes pages.

Section 2: Understanding Migration: Classroom Strategies

Two introductory classroom activites are included in Section 2. These activities are designed for use at middle and high school levels, although some suggestions for use at lower levels are included below.

Student Activity 1 examines migration trends in students' own community through a series of interviews with people that the student knows. This activity can easily be modified for use at the elementary level, either by interviewing one person as a class activity, or using a story or video to collect data for the spectrum graph activity
Download this activity (381 kb)
Student Activity 2 examines films that deal with immigrants and migration and asks students to think critically about the film and plot elements relating to migration. Since most films dealing with this topic are for more mature audiences, we suggest using this activity at the high school level. There are some films, such as the animated picture An American Tail, that could be used to do this activity with younger audiences.
Download this activity (250 kb)

Section 3: Using T-Charts and Writing Prompts to Explore Migration


Section 3 contains a series of parallel activities that explore specific real-world examples of migration. Each short unit contains a simple reading, written for a middle-level audience, a T-chart activity, and a writing prompt, which can be done as an individual class assignment, in small groups, as an entire class, or as homework.

Section 4: Case Studies for the Advocate-Decision Making Activity


Section 4 is based around an advocate/decision-making activity, or "controlled debate." Instructions and worksheets are included, along with a series of case studies designed to be used in this activity. Each case study includes two pages of essential reading, along with supplemental materials that can be used, if time allows, or can be assigned as homework. We have made a conscious effort to use as many primary document sources as possible in order to help build critical reading and interpretation skills.

The worksheets for Section 4 are included with each case study.

Accordion 5

Panel 5. Add body text in this space.