Workshops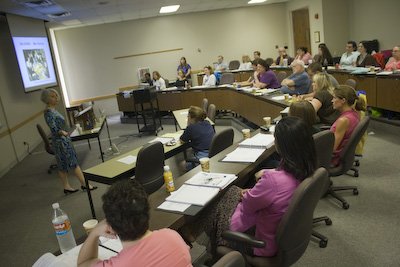 Hemispheres offers workshops and seminars for K-12 educators, including curriculum specialists and library media specialists, throughout the year. Our workshops are designed to introduce our primary strength: background knowledge and content on the world regions that we cover. Our workshops are geared toward educators who know how to teach their students effectively, but want more background information on what to teach their students.
Our core offering is our Summer Teachers' Institute: a four-day workshop held in early June each year on the campus of the University of Texas at Austin. Each year, we choose a theme--often through educator feedback--and construct the program around the Texas Essential Knowledge and Skills that relate to it. Faculty, graduate students, and staff from the University give content talks, and give participants the chance to ask questions, engage in discussion, and move beyond the textbook as the sole source of information. An archive of our previous Summer Teachers' Institute programs can be accessed in the menubar to the right.
We also offer workshops during the year, both on campus and around the state of Texas. These are typically one-day, half-day, or Saturday workshops on a more specific theme, or that incorporates instruction around one or more of our curriculum units, region-specific content, and/or instructional activities. For more information, please click one of the links in the right menubar.
How do I find out when workshops will be offered or are available for registration?
Join our e-mail list. This is a low-traffic e-mail list. We do not distribute it to anyone else -- it is used solely to announce upcoming workshops, teacher travel abroad opportunities, and new issues of the Hemispheres newsletter.
Local Austin-area teachers may also be interested in our E-Bulletin list. The E-Bulletin, sent every Wednesday during the school year, includes the information mentioned above, and also includes information on cultural and educational events taking place in the greater Austin area.