Honors
IRG Honors Thesis Program

The Honors Thesis Program is a year-long (fall-spring) two-course sequence that provides IRG majors in their final year of study with the opportunity to undertake a significant research project in a subject related to International Relations and Global Studies.

Students admitted into the Honors Thesis Program meet weekly in the fall semester with Michael Anderson, the IRG director, in an organized tutorial seminar (IRG 678HA). Early on during the fall semester, students select a faculty supervisor who will work with them on individual research projects through the spring semester (IRG 678HB). An IRG faculty member (Michael Anderson, Stephanie Holmsten, Michael Mosser, Di Wang) must serve as supervisor or second reader on an IRG Honors Thesis.

To graduate with Departmental Honors, students must have at least a 3.5 grade point average in International Relations and Global Studies, a 3.0 overall UT grade point average in IRG major coursework (including IRG 678 HA/HB with grades of A- or better). The admission committee will consider applications from all students (even those who currently don't meet the minimum requirements for graduating with honors).

Students in all track areas—International Security; International Political Economy; Culture, Media, and the Arts; and Science, Technology, and the Environment—are encouraged to apply.

**Be aware when submitting your appliaction you will be required to upload a statement of your primary research interest (What idea, concern, or issue in International Relations and Global Studies would you like to explore in an honors thesis?) as well as a writing sample (a course paper that you have written for a class at UT Austin).**
Learn More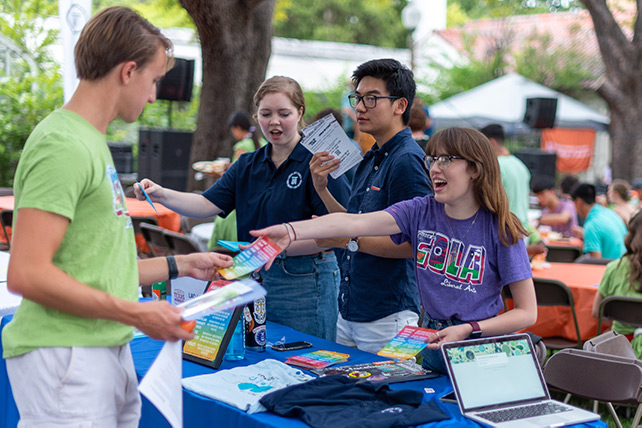 The Honors Thesis Program is a year-long (fall-spring) two-course sequence that provides IRG majors in their final year of study with the opportunity to undertake a significant research project in a subject related to International Relations and Global Studies.
Students admitted into the Honors Thesis Program meet weekly in the fall semester with Michael Anderson, the IRG director, in an organized tutorial seminar (IRG 678HA). Early on during the fall semester, students select a faculty supervisor who will work with them on individual research projects through the spring semester (IRG 678HB). An IRG faculty member (Michael Anderson, Stephanie Holmsten, Michael Mosser, Di Wang) must serve as supervisor or second reader on an IRG Honors Thesis.
To graduate with Departmental Honors, students must have at least a 3.5 grade point average in International Relations and Global Studies, a 3.0 overall UT grade point average in IRG major coursework (including IRG 678 HA/HB with grades of A- or better). The admission committee will consider applications from all students (even those who currently don't meet the minimum requirements for graduating with honors).
Students in all track areas—International Security; International Political Economy; Culture, Media, and the Arts; and Science, Technology, and the Environment—are encouraged to apply.
**Be aware when submitting your appliaction you will be required to upload a statement of your primary research interest (What idea, concern, or issue in International Relations and Global Studies would you like to explore in an honors thesis?) as well as a writing sample (a course paper that you have written for a class at UT Austin).**
IRG Honors Thesis Information Session
IRG Honors Thesis Information Session dates:
IRG Honors Thesis Application
Deadline to apply is MONDAY, MARCH 27th