Liberal Arts Honors Broadens Students' Worldview
Students call this program the best of both worlds
Welcome to Liberal Arts Honors
With small classes, top professors, individualized coursework, and an active learning community, Liberal Arts Honors broadens students' worldview and prepares them to lead. Students call this program the best of both worlds—the personal attention of a small liberal arts college with the resources of a major research institution
Add Video Headline Here
Swift Read: The Newest LAH Course
The University of Texas at Austin has been gaining reputation on the internet for offering a Taylor Swift course taught by Dr. Elizabeth Scala of the UT English Department. Scala pulls from Swift's songwriting to analyze and compare with famous and classic works of literature. This course is exclusively offered to Liberal Arts Honors students for the fall 2022 semester. LAH swifties...are you ready for it?
Watch Interview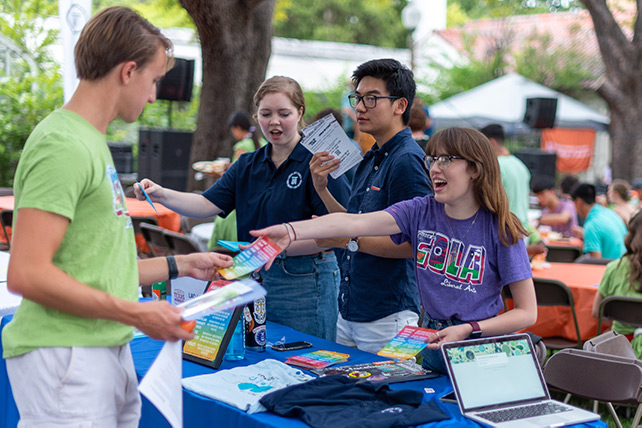 With small classes, top professors, individualized coursework, and an active learning community, Liberal Arts Honors broadens students' worldview and prepares them to lead. Students call this program the best of both worlds—the personal attention of a small liberal arts college with the resources of a major research institution.
Since 1990 Liberal Arts Honors has provided gifted students with special opportunities for enriched learning and recognition at every level of their academic careers. Almost 800 students, including 140 freshmen, participate in the program each year.
In addition to taking honors coursework focusing on reasoning, research, and writing, Liberal Arts Honors students are encouraged to study abroad and become global citizens. Nearly all participate in internships to help them build professional networks, and define themselves.
Prospective students considering attending The University of Texas at Austin with a commitment to a Liberal Arts education are encouraged to visit campus, visit us, and attend a prospective student information session to experience first hand all that the Liberal Arts Honors Program has to offer!
Add Video Headline Here