How to Apply
Deadline for applying for Fall 2023
The deadline for applying for Fall 2023 is December 1, 2022. The deadline for a Fall application is always December 1 of the preceding year. We do not admit in Spring or Summer. Decisions are announced in early February.
Apply online here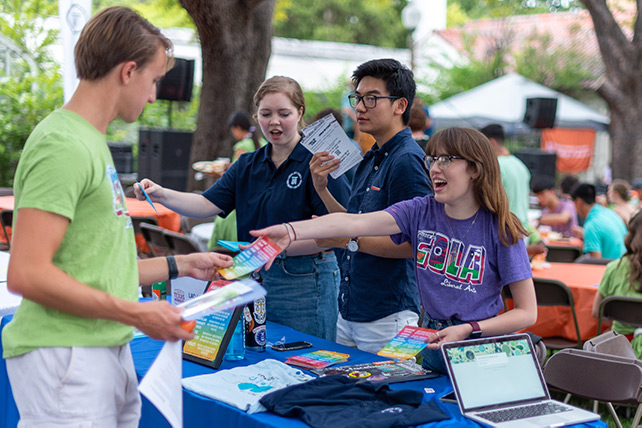 The Apply Texas application opens for Fall admissions sometime in August or September, depending on changes made to the statewide application.
When creating your profile, make sure you enter your family name in the field "Last Name, Family Name, or Surname" and your given name in the field "First Name or Given Name." Otherwise, your application will not match your transcripts and test scores correctly.
Admission to the graduate program is not restricted to those with a BA in linguistics, and the core course offerings are specifically designed to meet the needs of entering students with little or no previous course work in linguistics. It is not necessary to have an MA to apply for the PhD in Linguistics.
All applicants:
The following three items are required by the Graduate Linguistics Program.
Statement of Purpose - a clear and straightforward statement in which you give an idea of: your current interests in linguistics; how these interests developed; your plans for graduate study and eventual specialization, even if tentative. The statement of purpose may be uploaded electronically through the online application process.
Recommendation letters - we require three letters from professors who know you and your work. E-mails will be sent to the recommenders whom applicants identify on the application. The recommenders will receive a link which they can use to upload letters of recommendation.
Sample research paper, or work of similar scope, that clearly demonstrates your writing ability. The sample research paper can be uploaded at this link once your application is loaded and your application fee is paid.
Do not send official paper transcripts at this time. You will only be required to submit official paper transcripts if you are admitted to the program.
Note: All applicants are responsible for ensuring that the above mentioned items are uploaded. Applicants should contact the Linguistics Graduate Program in order to verify that all items have been uploaded by their due date.