FLAS
Attend a virtual info session to learn more.
Log on to Zoom on Thursday, January 19, 2023, at 4 p.m.
Zoom link: https://bit.ly/flas-info | Meeting ID: 953 2680 8642 | Passcode: 275624
Learn More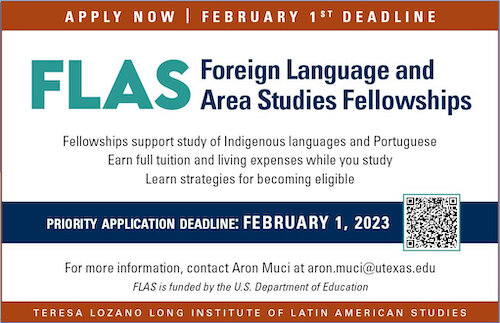 Summer 2023 | Academic Year 2023–2024
Applications open November 14, 2022. The priority application deadline is Wednesday, February 1, 2023, at 11:59 p.m. However, late applications will be accepted through Friday, February 17, 2023, at 11:59 p.m. Please note, late applications are not guaranteed to be reviewed or awarded. Students are encouraged to either apply by the priority deadline or contact the FLAS coordinator before the priority deadline to request an exception. Approved late-application exceptions will be reviewed..
Please see the bottom of this page for application links.
Learn More