MA
Deadline for Fall 2024 Graduate Admissions
December 1, 2023, 11:59 p.m. Central Standard Time
All materials due; late submissions will not be accepted (no exceptions)

• MA, PhD, and Dual Degree applications open August 1, 2023.
• We recommend that applicants submit at least two weeks prior to the deadline.
Admissions Page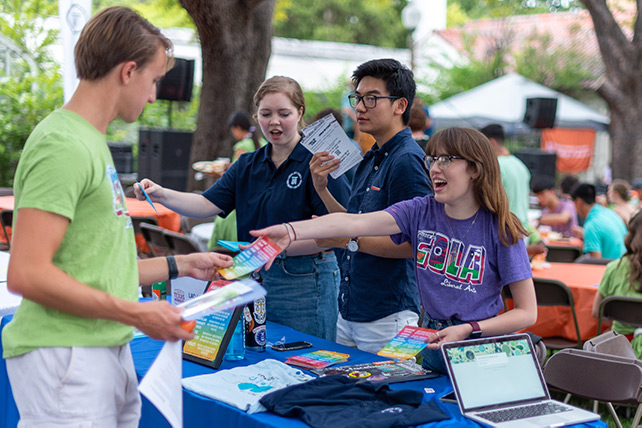 LLILAS offers a two-year master's degree program that allows students to declare a major and minor focus of work. The mission of the MA program is to offer excellent academic training and interdisciplinary preparation for students planning a career requiring knowledge of Latin American peoples, cultures, and societies. The MA prepares students to work in areas such as nonprofit spaces, the private sector, government, higher education, and think tanks. Students may utilize the master's program as a terminal degree or pre-doctoral research track. There are a number of dual-degree master's programs, which generally take three years to complete.
One of the greatest strengths of the MA program is its interdisciplinary nature, with the opportunity for students to take classes from 150+ faculty affiliates in more than 30 departments across the university. Such a choice of disciplines and approaches is a singular opportunity for intellectual development and training for a career requiring specialist knowledge of Latin America.
The Latin American Studies program is interdisciplinary and very flexible; students must plan a cohesive program to focus their interests. They should design their program of study to incorporate basic theory and methodology courses relevant to the discipline. The student's program must be arranged in consultation with the graduate adviser.
LLILAS has partnered with several professional degree programs at UT to establish dual degree programs. The dual degree programs are structured so that students can earn the two individual master's degrees simultaneously. The dual degree programs normally require three years to complete, except for the dual degree program with the School of Law, which requires four years.
The University of Texas School of Law, in conjunction with the University of Texas Institute of Latin American Studies, is pleased to announce the introduction of a new program in Latin American and International Law for the degree of Master of Laws (LLM).
A master's student seeking to use coursework completed at another institution must provide the Graduate Studies Committee with an official transcript, the official explanation of the institution's course numbering system and grading system, and the course description from the catalog of the institution.
View important forms and resources for LLILAS graduate students.