PhD
Deadline for Fall 2024 Graduate Admissions
December 1, 2023, 11:59 p.m. Central Standard Time
All materials due; late submissions will not be accepted (no exceptions)

   • MA, PhD, and Dual Degree applications open August 1, 2023.
   • We recommend that applicants submit at least two weeks prior to the deadline.
Admissions Page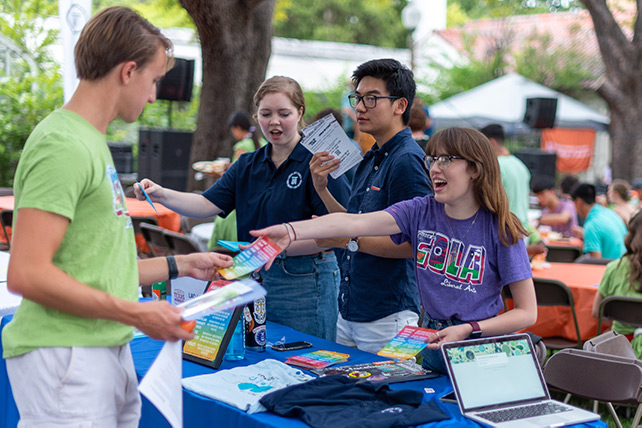 The LLILAS doctoral program is dedicated to providing a flexible yet rigorous course of study for a select number of students whose proposed doctoral program requires an interdisciplinary approach.
LLILAS doctoral students combine interdisciplinary training with a focus on practical applications, acquiring not only specialist knowledge of their subject, but also a range of skills and expertise in problem-solving and connecting ideas. On completion of the degree, our students frequently enter professions in which they apply theoretical and methodological knowledge to real-world problems. As part of this training, students will be required to participate in a professional placement before defending their doctoral dissertation.
The LLILAS Graduate Admissions Committee considers requests for admission to the doctoral program. In order to assist the committee's decision-making process, candidates should outline their reasons for choosing an interdisciplinary doctoral degree and specify a proposed focus for the doctoral dissertation. The application should also specify one of the three tracks, outlined below, which the proposed program of study fits best. Each of these three tracks is linked to an area of strength among the LLILAS faculty. (See Admissions page.)
These areas of scholarship represent clusters of faculty strength, around which an interdisciplinary intellectual community has developed. Dialogues among faculty members with shared scholarly interests often take place at LLILAS research events such as conferences, lectures, and roundtables. Students are encouraged to attend and participate in these productive exchanges.
The principal criteria for acceptance into the LLILAS PhD program:
A truly interdisciplinary program of study, that is, one that draws on multiple areas of disciplinary knowledge or combines them in ways that could not easily be achieved within the confines of a discipline-based program.
Degree of fit between the applicant's research interests and one or more of the tracks listed above.
Proposed doctoral topic of clear theoretical and empirical importance within Latin American Studies.
Evidence of communication with at least two UT faculty members who express strong interest in working with the applicant on the specified project.
A proposed doctoral research topic that, in addition to academic excellence, has potential for applications outside the academic world.
A master's degree is required for admission to the PhD program (although students may submit requests before the degree is formally granted).
Learn more about the requirements for degree completion.
View important forms and resources for LLILAS graduate students.