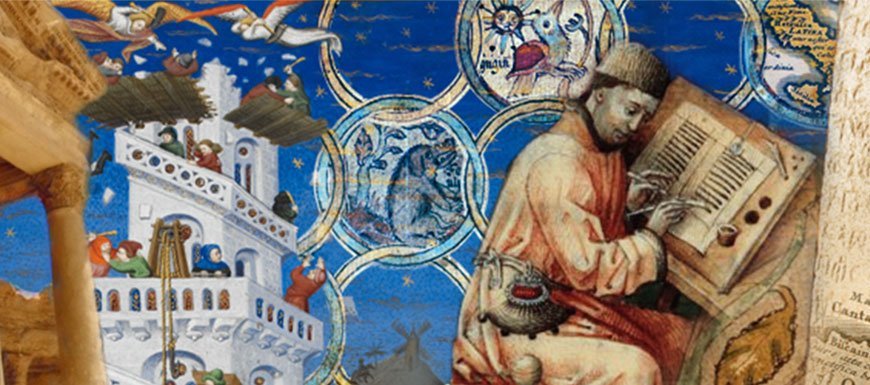 Edit Headline Text
Edit Subhead Text
EMLI
Early Mesoamerican Languages Initiative
Welcome to the Early Mesoamerican Languages Initiative (EMLI) of the Linguistics Research Center! The LRC has long championed ancient languages. While many of the LRC's resources focus on Indo-European languages, the Early Mesoamerican Languages Initiative brings the same experience and scholarship to bear on the task of increasing access to, and awareness of, early indigenous languages of Mesoamerica. Early texts written in indigenous languages of the Americas still prove critical to a diverse and well-rounded understanding of the history, intellectual achievements, philosophies, and beliefs of Mesoamerican peoples, both in antiquity and in the present day. Pivotal texts like the K'iche' Maya masterpiece the Popol Vuh revive the cosmology, myth, religion, and history that many Spanish conquistadores, and later Catholic priests, actively tried to suppress. The scholarly multi-tome Florentine Codex, the result of a collaboration between a Franciscan priest and Nahua scholars, records in Older Nahuatl, the language of the Aztecs, a stunning richness of cultural and historical information.
Advances in digital humanities now provide unprecedented access to primary documents in indigenous languages of Mesoamerica. But, as with many of the early Indo-European languages, cutting-edge information about those languages remains out of reach for all but a handful of scholars. EMLI aims to fill an urgent need for free, public, accurate, and accessible information and materials for students and enthusiasts of indigenous Mesoamerican history, culture, religion, science, and art through cutting-edge language lessons, lexical resources and dictionaries, cultural and historical overviews, and more. Through these materials those interested in Mesoamerican history and culture can read and learn from primary sources written in indigenous languages, often by indigenous authors.
Dr. Danny Law, associate professor of Linguistics and current acting director of the LRC, heads the Early Mesoamerican Languages Initiative. Danny is an expert in Mayan languages and their history and has a longstanding and deep commitment to early Mesoamerican languages, as well as to the modern-day descendants of those languages, and to the people who speak them everyday in communities throughout Mesoamerica, and an increasingly global diaspora. In addition to Dr. Law, the LRC has brought together a distinguished roster of scholars from the University of Texas, and beyond, themselves leading experts in Mesoamerican languages and history, to form our advisory board for this initiative.
Early Mesoamerican Languages Initiative Advisory Board
Iyaxel Cojti Ren (Archaeologist, Postdoctoral Fellow at Dumbarton Oaks, Founding member of Sak Chuwen, a Maya-led Guatemalan organization dedicated to teaching modern Maya communities about ancient Maya hieroglyphic writing). Dr. Cojti is an authority on the history of the Kaqchikel and K'iche' kingdoms in the Postclassic. Her work integrates Colonial historical records in Colonial K'iche' and Kaqchikel, as well as Spanish, with archaeological excavations and oral histories of modern K'iche' and Kaqchikel communities. As a K'iche' Maya herself, she has also been an active participant in international dialogues about indigenous participation in scholarship and decolonization of academia.
Nora England (Linguist, Director of the Center for the Indigenous Languages of Latin America, Dallas-TACA Centennial Professor in Linguistics at UT Austin). Also a Macarthur grant recipient, Prof. England is a pioneer in collaboration with speakers of indigenous languages to document and describe those languages. Her own research has focused primarily on the contemporary Mayan languages Mam and K'iche'.
Kelly McDonough (Historian, Director of the LLILAS-BENSON Indigenous Languages Initiative, Associate Professor of Spanish & Portuguese, Program in Native American and Indigenous Studies). Prof. McDonough's research examines indigenous intellectual histories, modern and colonial Nahuatl literature and language, and critical indigenous studies. As newly appointed Director of the LLILAS-BENSON Indigenous Languages Initiative, Prof. McDonough oversees efforts at UT Austin to teach contemporary indigenous languages of Latin American, including traditional university courses, intensive summer courses, and online series on Modern Nahuatl, Modern K'iche', and Modern Quechua.
David Stuart (Archaeologist, Director of the Mesoamerica Center and Schele Professor of Art and Art History at UT Austin). Prof. Stuary is the preeminent specialist in ancient Maya hieroglyphic writing, as well as the archaeology and art history of Mesoamerica. He was the youngest-ever recipient of the Macarthur Grant (at the age of 18) for his contributions to the decipherment of Maya hieroglyphics.
Anthony Woodbury (Linguist, Co-Director of the Archive of Indigenous Languages of Latin America, Jesse H. Jones Regents Professor of Liberal Arts, Professor of Linguistics, UT Austin). Prof. Woodbury is a preeminent theorist and practitioner of the documentation and description of endangered languages. In addition to pioneering work with endangered languages of Alaska, he has led a team of researchers documenting and describing the several varieties of Chatino, an Oto-Mangean language group that is closely related to Zapotec. He has also participated in yearly workshops in Mexico training speakers of indigenous languages of Mexico in literacy in indigenous languages, basic linguistic description, and language pedagogy.