Admissions
Application Deadline
Admission Application Deadline is January 1, 2023.
Submit the application materials by January 1, 2023 to the Graduate and International Admissions Center.:
Learn More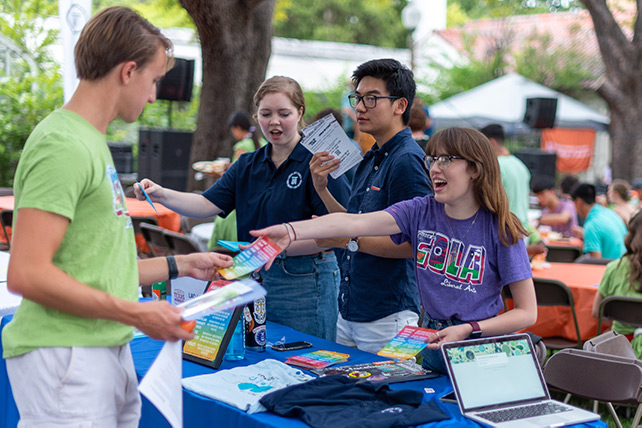 REQUIREMENTS FOR ADMISSION
NEW INFORMATION:
GRE scores are OPTIONAL this coming cycle 2022-2023. Official GRE scores may be reported by ETS (the Education Testing Agency) to the Graduate and International Admissions Center, ETS code for The University of Texas at Austin is 6882.
The Philosophy PhD program admits new students for a fall start; we do not have spring admission.
In assessing candidates for the graduate program, we consider a variety of factors, including GRE scores, grades in undergraduate and any previous graduate coursework, letters of recommendation, writing samples, and written statements. Admission to our program is highly competitive. Only about one applicant in fifteen is admitted. The median GRE score (verbal + quantitative) for admitted applicants for fall 2022 was 329 ; the median GPA, 3.89.
You don't need to have majored in philosophy in order to be admitted, nor do we require that you have an MA, but successful applicants typically have an undergraduate degree in philosophy, or a comparable level of preparation. We do not admit for a terminal master's degree. You should have had some coursework in philosophy, preferably, in logic and in the history of philosophy.
Visit the My Status website to check on the status of your application to our program. Information will be updated regularly.
Application - The University of Texas requires that you apply electronically, through ApplyTexas website. The online application includes the statement of purpose and electronic letters of reference.
Three letters of reference (from teachers who know your work in philosophy or a related field). Letters of recommendation MUST be requested and submitted ONLINE. This is a part of the online application.
Transcripts You must upload one copy of the official academic transcript from every senior college you have attended. Transcripts are not required from junior colleges and community colleges. information sheet on uploading transcripts.
GRE scores are OPTIONAL for the coming cycle 2022-2023. Official GRE scores may be reported by ETS (The Educational Testing Agency) to the Graduate and International Admissions Center. (ETS code for the University of Texas at Austin is 6882). Writing Sample, a sample of written work in philosophy, such as a brief term paper, roughly 4,000 to 6,000 words in length. After you have completed the online application, you can upload your writing sample via the My Status website.
International applicants will be required to submit official TOEFL or IELTS scores. The report is submitted by the testing agency to the Graduate and International Admissions Center. See their web site for further instructions.
Graduate and International Admissions Center (GIAC)
The University of Texas at Austin
P.O. Box 7608
Austin, TX 78713-7608
Admitted students always receive financial aid, usually in the form of a TA-ship, and this gives them a monthly stipend, tuition assistance and pays for health insurance.
The University of Texas Graduate student TA and AI wages have increases significantly effective 2021. (Daily Texan article)
Teaching Assistants and Assistant Instructors in Philosophy earn a monthly stipend for nine months, receive tuition assistance, they receive health insurance, and their dependents are eligible for health insurance benefits. If an applicant is admitted with financial aid, the department commits to continue aid for 5 years, provided they remain in good standing and meet minimum requirements.
TAs earn a monthly stipend of $2,174/Mo. and AIs earn $2,403/Mo for nine months.
In-state tuition for a graduate student taking a normal course-load of nine hours will total approximately $4,464 per semester. AIs, TAs, and Readers receive the in-state tuition rate plus tuition assistance that covers about 100% of the cost of tuition.
We also award a modest number of competitive fellowships. In both cases, tuition and medical benefits are covered. Students also receive additional stipends for study, research, and academic travel; a limited number of summer assistantships are also available.
Students who meet certain criteria of personal and family financial need are eligible for various other awards administered directly by the University-wide Student Financial Aid Office-scholarships, long- term loans, and work-study awards.
Questions?
Contact Sally A. Jackman, Graduate Program Coordinator