Travel Grants
Travel Grant Application
The Spring 2023 application for travel grants will open on Monday, January 9th, and will close on Friday, March 3rd.

PLEASE NOTE: Awards involving travel are subject to any University COVID-19 travel restrictions. Please read through all of the information on this webpage to successfully complete your application. Plan II Travel Grant questions: planiischolarships@austin.utexas.edu.
Learn More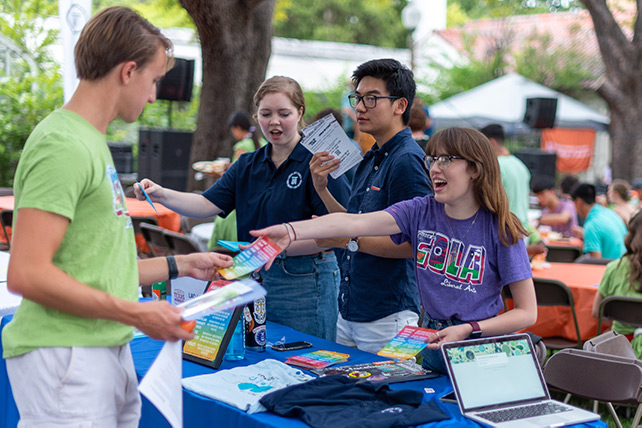 HOW TO APPLY:
Apply using the College of Liberal Arts Online Scholarship Portal.
If you have not used the system before, you will have to complete a one-time profile. After that, you will see a list of scholarships for which you are eligible to apply.
Look for the scholarship titled, "Plan II Travel Grant - Spring 2023"
Complete your application by 11:59 pm on March 3rd.
PURPOSE:
Plan II Travel Grants are restricted to Plan II students and can be utilized for academic travel purposes such as:
Attending an academic conference in your field, whether domestic or international
Study abroad programs (UT-sponsored or otherwise)
UT programs in other U.S. cities, such as the Archer program in D.C. or UTNY
Plan II will not help support nonacademic travel or student organization related travel
Travel grants are for individual student travel expenses, not for student groups or associations
Thesis-related travel expenses should be submitted via the Thesis Grant application. Please do not submit both applications for the same travel proposal.
Please note: Plan II Travel Grants are not intended to cover the entire cost of your proposed travel or project, and only one type of Plan II grant will be awarded per student, travel program, or project.
WHEN TO APPLY:
Plan II conducts two rounds of grant applications each year. For travel over winter break or in the spring semester, apply during the fall application round (August - October). For travel in the summer semester OR the following fall/full academic year, apply in the spring (January - March).
AMOUNT:
Awards typically range from $500 to $2,500, depending on financial need and the total cost of the travel. In most cases, Plan II will pay only part of your costs for a given trip, but your Plan II application must show all of your expenses for the trip. Be sure to seek funds from other sources as well. (See links at the bottom of the page for additional sources of study abroad funding to explore.)
RESTRICTED TRAVEL:
The University of Texas System requires all travel to countries with U.S. Department of State Travel Warnings to be reviewed and approved by the University's International Oversight Committee (IOC). Students wanting to travel to restricted regions must obtain Restricted Region Travel Approval to receive funding. We strongly advise students to complete this form during the program application process. Waiting to complete the petition process could result in a student not receiving a travel clearance or denial in time for departure. Students who are traveling to a restricted region as part of a UT group program should check with their program's administrator about restricted region approval.
INDEPENDENT TRAVEL:
Students who are traveling abroad independently will be required to register their travel with the International Office to receive funding.
Scholarship Spotlight: The Willie Tichenor Scholarship in Plan II

William Evans Tichenor came to The University of Texas at Austin in the fall of 2005 as a freshman with a double major in Plan II Honors and Business. At Plan II, as in all other areas of his life, Willie made friends quickly and easily because of his zest for life and huge, happy smile. He saw humor in all situations and challenged people to think.


Willie was in his third year of treatment for osteosarcoma when he began the Plan II Honors program. Even as he struggled with the effects of the disease and its treatment, he brought a joy and vitality to every class he attended, every discussion in which he participated, and every paper he wrote. Music was Willie's passion throughout his life, and he pursued this interest as lead singer of the band, CloverStreet, and as worship leader in his church youth program. He loved sports, especially basketball, and was an avid snowboarder. He shared his love for learning, music and sports with his friends, new and old. Although Willie was with us only briefly, he made a mark at Plan II and will never be forgotten.


Willie was born in Harlingen on May 15, 1986, but grew up in Dallas. He attended UPUMC Weekday School, Armstrong Elementary, McCulloch and Highland Park High School, graduating in May 2004. Before attending UT Austin, Willie spent a year taking a grueling chemotherapy regime and working as a member of the youth staff at Highland Park United Methodist Church. When he came to UT in the fall of 2005, he became a member of the Texas Iron Spikes and attended the Austin Stone Church. He died at home on March 15, 2006.


The WWWW Foundation, Inc., also called QuadW, was created to honor Willie's desire to make positive changes in the world around him. Its name stands for "What Would Willie Want?," and its mission focuses on three areas important to Willie: sarcoma research, personally transforming mission experiences, and higher education. Seven of Willie's closest friends serve on the board of directors, keeping Willie's spirit alive in pursuit of these goals.


Willie's family and the QuadW Foundation (www.QuadW.org) established this scholarship in Willie's honor to assist Plan II Honors students. QuadW will be happy to learn more about you, your academic plans, and how this scholarship might help you.

Apply for Plan II Travel Grants such as the Tichenor Scholarship here.

Accordion 2

Panel 2. Add body text in this space.

Accordion 3

Panel 3. Add body text in this space.

Accordion 4

Panel 4. Add body text in this space.

Accordion 5

Panel 5. Add body text in this space.