Honors Program
The faculty of the Department of Rhetoric and Writing (DRW) invite qualified majors to apply to the honors program. Completing a research thesis gives students a chance to work closely with some of the department's distinguished faculty and develop advanced skills in writing, analysis, and research. In addition to these intellectual benefits, graduating with honors may prove a valuable credential on the job market, and in applications for law school, graduate school, and other professional opportunities
General Honors Program Questions
How do I gain admission to the Honors Program?

1. Meet with your academic adviser to determine whether you will be academically eligible. The requirements include:

Completion in residence of at least six upper-division in-residence hours in rhetoric and writing
Achievement of a 3.50 GPA in in-residence RHE courses and a 3.00 GPA in UT-Austin courses

2. Submit the honors program application online by midnight on April 3, 2023. The application asks for the following items:

A brief description of your general background and project goals
A sample of academic writing displaying your critical, analytic or research skills, preferably from an RHE course
The names of two faculty members you intend to approach for recommendations, at least one of whom instructed you in an upper-division RHE course at UT-Austin. The rhetoric faculty member writing the recommendation may be someone other than your potential thesis adviser. One of your recommenders may be a faculty member from another department.

If you have questions, contact Professor Linda Ferreira-Buckley (lfb@utexas.edu).

3. Send the link for the Faculty Recommendation Form to two faculty recommenders.

Faculty members must complete the recommendation form by 4pm on April 10, 2023.

A faculty committee will review your completed application and notify you of its decision in mid-May.

What courses do I take in the Honors Program?

Following your admission to the honors program, you will take a two-semester Honors Tutorial Course to support your development and completion of an honors project. Here is the official catalog description of that course:

RHE 679H Honors Tutorial Course.

Research into and development of a thesis/project topic and proposal followed by the writing and defense of an honors thesis or development and defense of an honors project. The equivalent of three lecture hours a week for two semesters. Prerequisite: For 679HA, upper-division standing, completion of at least six hours of upper-division RHE courses, admission to the Rhetoric and Writing Honors Program, and consent of the honors director; for 679HB, completion of 679HA.
RHE 679HA is a three-hour graded course that meets in the fall. During the semester, you will be introduced to research methodologies, narrow the focus of your project, begin gathering data, complete an annotated bibliography, and develop a detailed prospectus or partial draft. RHE 679HA is taught by the Honors Program Director, working with other members of the rhetoric and writing faculty directing honors projects. Your grade will be assigned by the Honors Program Director.
RHE 679HB meets in the spring. In this graded, three-hour course, you will work one-on-one with your thesis advisor to complete the honors project. You will also receive feedback and advice from a second reader. Your thesis advisor and second reader will meet with you for a formal defense of the completed thesis or project and will submit a form indicating that you have completed your thesis and successfully defended it. Your grade will be assigned by your thesis advisor, in consultation with your second reader.

Requirements for graduating with Honors in Rhetoric and Writing:


Admission to the honors program in rhetoric and writing
A 3.50 GPA in in-residence RHE courses and a 3.00 GPA in courses at UT-Austin
Completion in residence of at least sixty semester hours of coursework counted toward the degree
Completion of coursework requirements for the major in rhetoric and writing
Completion of RHE 679HA with a minimum grade of A-.
Completion of RHE 679HB with a minimum grade of A-, which includes the successful defense of a finished thesis or project. For honors to be conferred, the thesis advisor (supervisor) and second reader must agree on a grade of A- or higher. Credit for RHE 679HB is earned with any passing grade.
Submission of the final bound thesis by May 1, 2023

Accordion 4

Panel 4. Add body text in this space.

Accordion 5

Panel 5. Add body text in this space.
Application Deadline:
Monday, April 3, 2023
Learn More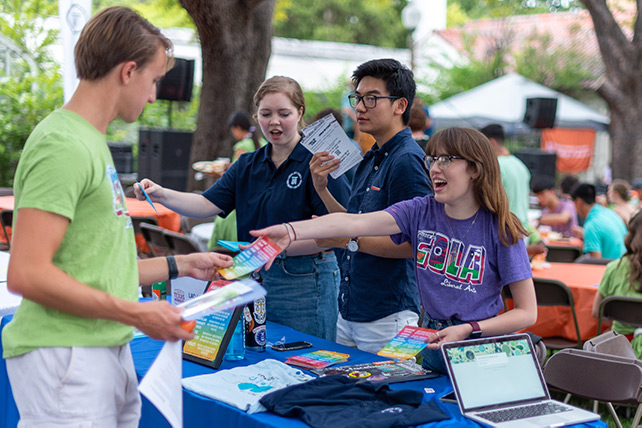 Important dates for Spring 2023 Honors Program
| | |
| --- | --- |
| March 20, 2023 | Draft due to Supervisor. Also submit a copy through Canvas Honors Sandbox portal. |
| April 3 - April 7, 2023 | Complete draft due to Second Reader. |
| April 3, 2023 | Supervisor sends brief progress report due to the Director of DRW Honors Program, Linda Ferreira-Buckley |
| April 17 - April 25, 2023 | Defense dates. Defenses will be held in person. (The supervisor, second reader, and student may agree to a Zoom defense.) Honors director will send instructions and forms to the students and their committees. Instructions and forms are also available via the Canvas Honors Sandbox. |
| April 21, 2023 | DRW Honors Colloquium |
| May 1, 2023 | Deadline for submitting official thesis (i.e. completed, revised, formatted, and "signed") copy to the Canvas Honors Program Sandbox by 10am. Supervisor's deadline for filing defense forms (send via email to lfb@utexas.edu). |