Advising
The Religious Studies Undergraduate Academic Advisor provides one-on-one academic advising, as well as providing information about the degree plan, degree requirements, internships, honors, and connecting you with campus resources to help you succeed. You are encouraged to visit your advisor regularly to discuss your course plans and academic goals.
Advising is required for students new to the major, on scholastic probation, or with 90 or more hours of completed coursework.
Fall 2023 Appointment Modality
Advising appointments will be offered both virtually and in-person. Students must request which they prefer when scheduling an appointment. More information can be found via 'schedule an appointment' link.
Learn More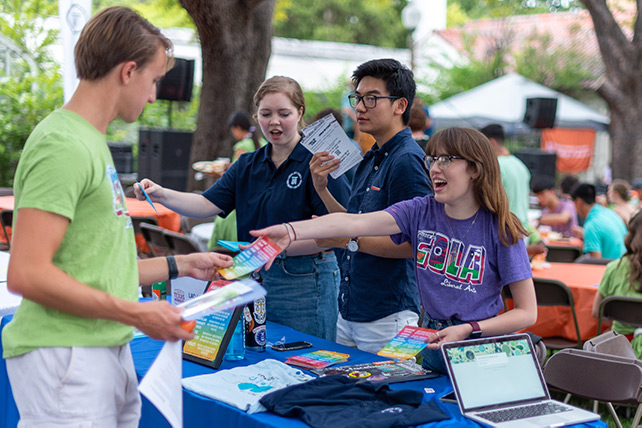 Meet your Undergraduate Academic Advisor!
Hey there y'all, my name is Michelle D. Escalante and I use she/her pronouns. I am a Senior Academic Advisor overseeing not only Religious Studies majors, but Philosophy majors and Jewish Studies majors as well. As your Undergraduate Academic Advisor I am here to serve as a guide supporting you in all aspects of your undergraduate career, connect you with different types of resources UT has to offer, and empower you to realize and reach your academic/personal goals.
A little about me.. I was born and raised in the RGV (puro 956!). I am a first generation college grad and I am proud to have been a part of the last class to graduate from UT-Pan American with a BA in Psychology and Sociology. I have a Masters in Sociology from UTSA (birds up!). I've been at UT Austin since 2019. You can catch me bike riding on the weekends, volunteering as an alumni with my sorority, and/or watching my favorite comfort shows.

As a reminder I am here to help you throughout your Journey on these 40 acres. Please let me know how I can be of support!

Hook 'em 🤘
-Michelle
I am required.
Office: WAG 313
Phone: (512)475-9185
Email: mdescalante@austin.utexas.edu
Fall 2023 modality: M & F remote; W - TH on campus. 9AM - 4PM