Professional Development Funding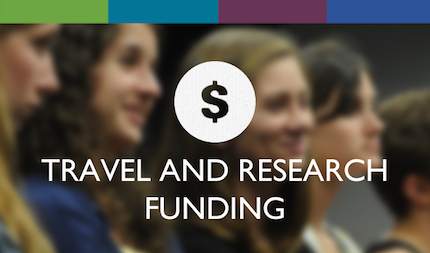 CREEES Professional Development Awards are available to students in ANY major at UT Austin who are interested in professional development in the realm of Russian, East European and Eurasian Studies. Applications to participate in professional development activities MUST be somehow related to the CREEES region, namely: the former Soviet sphere of influence, Central/Eastern Europe, Southeast Europe/former Ottoman Empire, Central Asia, the Caucasus, etc.
Awards are meant to motivate students interested in our region to engage in opportunities that will further their professional goals, such as competitive internships, job interviews, research/fieldwork, or presenting at academic conferences. Up to $1,000 per student will be awarded for international opportunities or $500 per student for domestic activities.
Eligibility: Undergraduate and graduate students in any major at UT Austin are eligible to apply. Registration is required during the semester the funds are to be used (or ISR). Summer registration will be waived if a student was registered the prior spring semester.
FUNDING IS LIMITED. Awards will be made on a competitive basis.
Application Process
*Applications open now!* To start the process, click on the online application form.
You may apply once you have proof of your professional development activity. Examples of needed proof include:
abstract and evidence of acceptance to present at a conference;
an offer letter for a job interview or internship;
fieldwork/research statement from your faculty supervisor or acceptance from the institution where you will be.
Send inquiries to Agnes Sekowski, CREEES Assistant Director/Graduate Coordinator (BUR 440), agnes.sekowski@utexas.edu, 512-232-9123, by the appropriate deadline.
Deadlines
Applications will be accepted on a rolling basis until funding is no longer available.
Round 1 priority deadline for all travel during the academic year and/or summer: October 31
Round 2 priority deadline for all travel during the academic year and/or summer: April 1
What Kind of Professional Opportunities Exist?
For a list of professional development opportunities that are relevant to the CREEES region, check out the CREEES Professional Resources Forum. This resource is updated on a regular basis, so check back often or sign up for our CREEES Careers Email List to receive a weekly digest of new posts!
​The Clements Center on campus also keeps a wonderful internship database for possible internships in fields that may be of interest, and also offers professional development funding for participation in unpaid internships.
Sources of Funding
CREEES Professional Development Awards are funded by various sources, namely Title VI National Resource Center (NRC) funding from the US Department of Education, funding from the UT Graduate School and College of Liberal Arts, and various endowments housed in the purview of the Center for Russian, East European and Eurasian Studies.