Outreach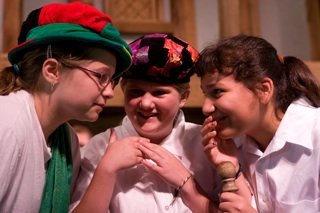 Shakespeare at Winedale Outreach, housed in the College of Liberal Arts at the University of Texas, is a Language Arts enrichment program that provides opportunities for meaningful learning and academic excellence for Texas schoolchildren in grades K-12, with a special focus on both emerging and advanced readers in grades 3 through 8, and on students in low-income communities.
Through our many programs – classroom visits and workshops, in-school residencies, special "Day Out with Shakespeare" trips to the UT Winedale Historical Center, and the Festival of Play celebration at Winedale in late April – our aim is to empower young students by giving them the chance to make Shakespeare their own through study, memorization, interpretation and group performance. By doing this, we hope to foster in young people an early appreciation of poetic and heightened language; to give them a strengthened sense of self-confidence when speaking in front of others; and to provide a head start on a sometimes-daunting component of high school and university curriculum.
In our work we draw upon the resources and teaching legacy of the Shakespeare at Winedale program in the Department of English, created by Dr. James B. Ayres in 1970. We collaborate closely with campus teachers, providing them with ongoing professional development that can deepen and extend Language Arts instruction in remarkable ways for years to come. Shakespeare at Winedale Outreach is funded by a grant from the Applied Materials Foundation, the RBC Dain Fauscher Foundation, the Texas Commission on the Arts, the David M. Newberger Philanthropic Fund of the Dallas Jewish Community Foundation, and private donors.
On-campus Coordinator for Shakespeare at Winedale Outreach is Clayton Stromberger, a graduate of the Winedale summer classes in 1983 and 1984. Mr. Stromberger has nearly two decades of experience as an arts educator and elementary and middle school classroom teacher. For more information on ways the Outreach program can work with K-12 teachers and students, contact Clayton via email at cstromberger@austin.utexas.edu, or by call the UT Winedale office at 471-8367.