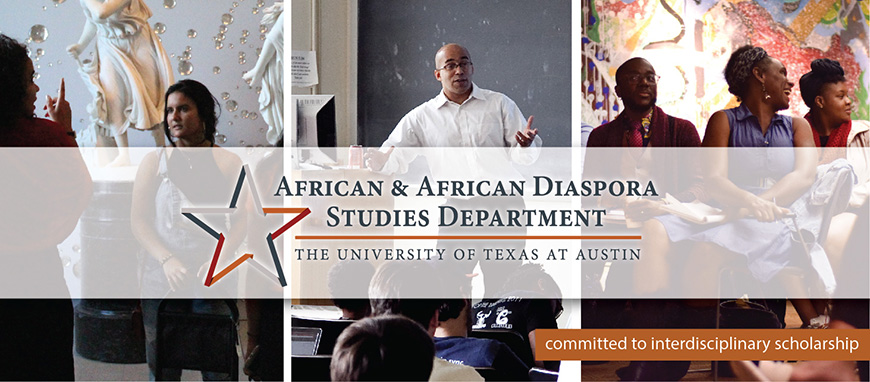 ---
Are you familiar with Black Studies at UT Austin? How the African and African Diaspora Studies Department relates to UT's larger Black Studies collective? Get the rundown from Black Studies faculty, staff, and students in the following video.
Why is the Gordon-White Building so special? Part art gallery, part policy institute, and all educational and cultural excellence, GWB is home to Black Studies and Latino Studies at UT Austin. Take a virtual tour of this hub for student, faculty, and staff campus life.
---
---
The doctoral program in African and African Diasporas Studies at UT Austin was launched in 2012 with an inaugural cohort of 5 students. To date, 18 Ph.D. students have graduated (including all 5 members of the original cohort). Our graduates are entering the professorate, and their research and teaching interests include Black Feminisms, Anti-Black Capitalism, Critical Race Theory, Black Activism and Mobilization, Afro-Brazilian Studies, Tourism and the Commodification of the Black Body, Immigration, Black Performance Aesthetics, Black Queer Theory, and LGBTQ Cultures in the Black US South. AADS's faculty and staff are proud of our graduates' accomplishments and of the intellectual, artistic, and political commitments that characterized their work in the department and that which they are pursuing today.
Spotlights on two of our recent doctoral graduates are below.
Dr. Beth Colon-Pizzini (Graduated Spring 2021)
Dr. Colon-Pizzini will be serving as a lecturer in the African and African Diaspora Studies at the University of Texas at Austin.
Scholarly interests: Afro-Puerto Rican politics, history, and culture; Contemporary Caribbean anti-colonial cultures; Afro-Caribbean and Afro-Latin American cultures, geographies, and political formations and counter-formations; Afro-Diasporic feminist networks; Afro-Diasporic culture on the world stage; and Black queer theory and cultures.
My journey at AADS, which began in 2015, saw me learning Black Studies as a complex discipline, growing into a diverse intellectual community, and producing important scholarship through hurricanes, earthquakes, a near deadly snowstorm, and a global pandemic. Despite these struggles, I was always encouraged to do the projects that I did, the way that I did, with the transdisciplinary methodologies that I did, at AADS, for which I am very thankful. I would not have had the same results elsewhere. I am excited to take what I've learned here and the community I have fostered wherever I go. 
Dr. Khyree Davis (Graduated Summer 2021)
Effective fall 2021, Dr. Davis will be an Assistant Professor of Black Studies at Middlebury College.  
Scholarly interests: Black queer studies, Black trans studies, Black geographies, Black feminist thought, performance, visual cultures, and sexual politics/economies.
I've witnessed that many graduate programs invite stress, strains on time and a significant amount of work onto those who enter them. While this is no less true for AADS than in any other department, I found that the support network I was invited into and able to foster was of immeasurable benefit to me. My graduate student colleagues consisted of incredibly generous upcoming scholars and practitioners who collectively demonstrated that an academic career can and should exist within a community of care. The faculty and staff in the program helped me to develop the robust analytical and research skills that allowed me to navigate completing research and finishing a dissertation through a global pandemic, among other life-changing events during my time in the program. I am thrilled to take these commitments to excellence and community into my future endeavors.
---
Dr. Omi Osun Joni L. Jones, Professor Emerita of African and African Diaspora Studies
Dr. Omi Jones, who taught at The University of Texas for 29 years, serving as Associate Director of the Warfield Center for African and African American Studies for 6 years and as Center Director for 3 years, retired from the University in August 2019. Her indelible impact on Black Studies is difficult to overstate.
Dr. Jones has served as AADS's Doctoral Portfolio Program coordinator and spearheaded the department's groundbreaking study abroad and domestic study programs in Ghana, West Africa; Los Angeles; and San Francisco. Having chaired or co-chaired more than 20 dissertation committees and 20 more Master's theses, and having served as a member on nearly an additional 100 dissertation and Master's committees, the scope and extent of Dr. Jones'simpact on emerging and current scholars and artists, as well as on the field of Black Studies generally, is immeasurable.
Her retirement truly marks the end of an epochal era in Black Studies, but her new appointment as Professor Emerita of AADS helps ensure that her institutional legacy endures. In this role, Dr. Jones retains her membership in the department's Graduate Studies Committee and a listing in AADS's (and UT's) faculty directory.
The Omi Osun Joni L. Jones Visiting Performing Artist Residency
Equally exciting is AADS's renaming of our Performing Blackness Series, which was created by Dr. Jones, in her honor. The Omi Osun Joni L. Jones Visiting Performing Artist Residency celebrates blackness by making a space for black artists to work, create, and reflect on black life and culture. This residency serves as a space for artists to share their work, share their wisdom, and pause long enough to create new work in community with students, faculty, staff, and community members—not necessarily in that order.
On May 3rd, 2019, AADS launched a fundraising campaign to create an endowment to support this residency: the Omi Osun Joni L. Jones Endowed Excellence Fund. Endowments leave a legacy that lasts forever. With up to $12,500 in matching funds from the department, this excellence fund requires only an additional $12,500 to be established—but let's not stop there! The more funds we raise, the more artists we support, the more access we create for students, faculty, staff, and community to their craft.
Please consider donating today!