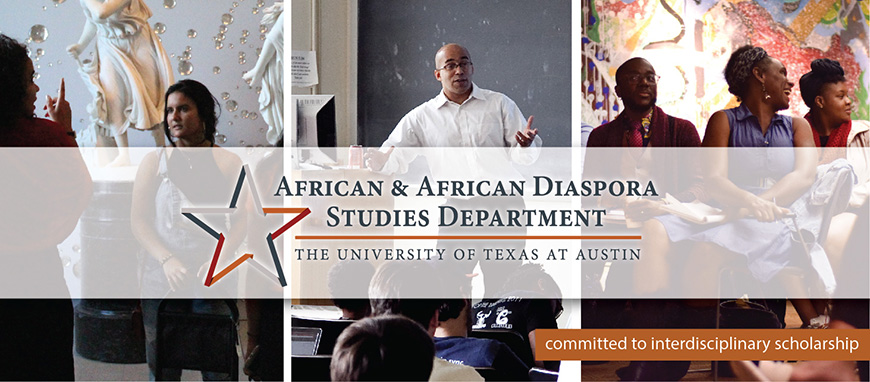 ---
Are you familiar with Black Studies at UT-Austin? How the African and African Diaspora Studies Department relates to UT's larger Black Studies collective? Get the rundown from Black Studies faculty, staff, and students in the following video.
---
---
The doctoral program in African and African Diasporas Studies at UT Austin was launched in 2012 with an inaugural cohort of 5 students. To date, 11 Ph.D. students have graduated (including all 5 members of the original cohort). Eight of these graduates have gone on thus far to enter the professorate, pursuing research and teaching interests including Black Feminisms, Anti-Black Capitalism, Critical Race Theory, Black Activism and Mobilization, Afro-Brazilian Studies, Tourism and the Commodification of the Black Body, Immigration, Black Performance Aesthetics, Black Queer Theory, and LGBTQ Cultures in the Black US South. AADS's faculty and staff are proud of these graduates' accomplishments and of the intellectual, artistic, and political commitments that characterized their work in the department and that which they are pursuing today.
Spotlights on two of our recent doctoral graduates are below.
Dr. William Mosley (graduated Spring 2019)
Dr. Mosley is the Mellon Mays Assistant Professor of Interdisciplinary Humanities at Wake Forest University.
Scholarly interests: Black queer theory, Black feminism, and LGBTQ cultures in the Black US South.
For Mosley, Black Studies at UT "was a worthwhile experience."
"As a Black queer feminist, I was mentored by faculty established in my field and ensconced myself within Black Studies' culture of engaged intellectual discourse via conferences, teaching and networking opportunities. But as a Black queer person for whom Austin was home for six years, I will say that Black Studies at UT provided for real opportunities to bridge theory from the classroom and Black life as we lived it. Ultimately, I was constantly asked, for whom is Black Studies? to which my response is reflected within my research agenda and position as a junior scholar of Black queer feminism."
Dr. Chinwe Oriji (graduated Spring 2019)
Dr. Oriji is Assistant Professor of Sociology at Wesleyan University.
Scholarly interests: Race, Racialization and Blackness, Nigeria, Biafra, White Western Imperialism and Immigration, Black African Migration, Black Feminisms, Global Racial Formation, Anti-Black Capitalism, and Black Social Memory.
For Oriji, Black Studies at UT "fostered [her] personal-as-political commitment to global black solidarity."
Read Dr. Oriji's recent article, "From Biafra to police brutality: Challenging localized Blackness toward globally racialized ethnicities of Nigerians in the U.S.," in the Ethnic and Racial Studies Journal:
https://www.tandfonline.com/doi/full/10.1080/01419870.2019.1649441