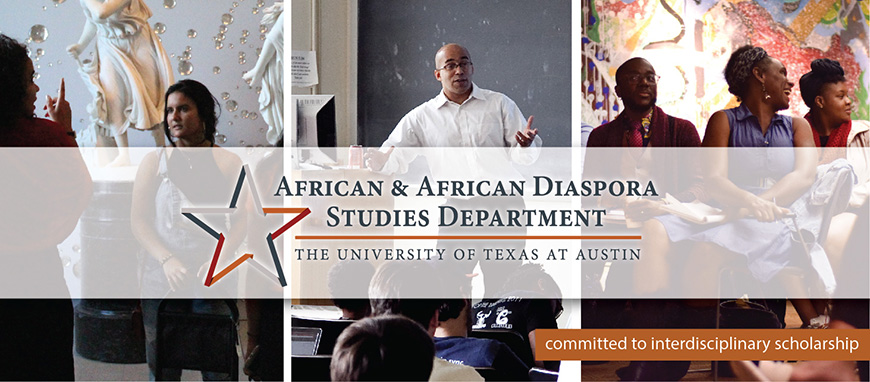 ---
Are you familiar with Black Studies at UT-Austin? How the African and African Diaspora Studies Department relates to UT's larger Black Studies collective? Get the rundown from Black Studies faculty, staff, and students in the following video.
---
---
Sasha Simon
This AADS Alumni Spotlight features Sasha Simon, a first-generation American raised in Highlands, TX, now living in NYC as a Public Health Consultant for various organizations.
First Name: Sasha
Last Name: Simon
Graduation Year: 2010
Undergraduate degree: The University of Texas at Austin, BA – African & African Diaspora Studies/Psychology
Graduate degree: MPH, Columbia University
Primary area of academic research/focus: Sexuality and Health
Current job title: Public Health Consultant
---
AADS: Where are you from? (Born, raised, etc.)
Sasha: I'm a first generation American raised in Highlands, TX, a small suburb just east of Houston with a population of less than 8,000. But if you're not familiar with the Greater Houston area, I would just tell you I'm from Houston. My family immigrated from the West Indies in the 80s.
AADS: Tell us a little bit about your journey after college and where it's led you currently.
Sasha: After college, I moved to New York City and completed a Master's of Public Health (MPH) program at Columbia University. At UT, I was a Sexuality & Health Peer Educator, and through that work I discovered the field of public health. I learned that the effects of discrimination and inequality reveal themselves in our health. In finding that there are ways to quantify and analyze the effects of oppression of nearly any sort, I pursued public health as both a tool for social justice and a viable career track. Since then, my career has been a mixture of public health and education, and I've done some surprising things I never thought I'd do: taught high school, taught at the local community college, founded a college prep non-profit and organized and learned with some of the foremost organizers whom I only read about in books—and those who are soon to be in them. It's been a pretty fulfilling time after college, but my professional focus has remained on how to connect people, information and resources in a way that increases prosperity and people's access to it.
AADS: While attending UT Austin, what made you choose to major in African and African Diaspora Studies?
Sasha: It was during the fall semester of my senior year (my first senior year…I will explain) that I chose to become an AADS major. At the time, I was a psychology major, completing the requisites for that degree and trying to make a final decision on which doctoral psychology programs I wanted to pursue. I needed to fulfill some remaining elective credits, and I decided to take an Intro to African American Culture class because—having been black all my life—I thought it'd be an easy A. Alas, to my benefit and my dismay, nearly everything I learned in the class was something new. I mean, I was learning about concepts, authors, artists, revolutionary figures and critical moments of my history that I had never been exposed to. I had no clue they even existed. I didn't know to look, because I didn't know it was there. When you get a taste of the truth, you want more because you sense, you know, it's a path towards freedom. I fell head first into the class. I was engrossed. I went through the experience that many young folks of color do when they realize that their own world had been veiled from them. I felt betrayed, lied to, manipulated and unknowingly enslaved despite all the words and propaganda that tried to convince me otherwise. I would have eaten this kind of information up at any point in my life. It was a shame that I had to be in college, a competitive one (paying tuition, mind you), to receive an education that should have already been provided to me. My history was mine, it belonged to me, and I had to accept that it had been purposefully whitewashed and minimized in mainstream American culture, especially within educational and indoctrinating institutions. One day I was studying in the UTC for a psych exam I had later that day. The entire time, I was struggling to care. I didn't care. And this wasn't like me. I was an honors student, I was preparing applications for PhD programs—not caring about an exam wasn't a part of my personality or my M.O.,
and all I wanted to do was dive into the assigned reading I had for Dr. Jones' class the next day. I struggled with it for a while, and finally gave in to the impulse to read, learn more and reclaim what was mine. I truly couldn't resist the feeling. It was illogical but it was honest, and the dissonance told me something obvious. So I opened my laptop and looked up the degree requirements online to see what it would take to add an AADS major: twenty-four credits, two standard semesters, and they would all have to be AADS courses. I was game. I would be changing the trajectory of everything I had just been working for for the past four years, but to pass up the opportunity seemed asinine. I went to the lobby and called my mom to tell her about the dilemma I was going through in the library. "Mom, I have a psych test in 4 hours that I can't even concentrate on. I have no desire. All I want to do is read for my Af-Am class tomorrow. I'm obsessed with how much there is to learn, and I'm offended by how much I don't know. And ultimately I feel it's inappropriate for me to try to be someone's psychologist when there are so many parts of myself that I'm unfamiliar with." I was surprised by how easily she agreed, and she completely supported my decision to double major. It wasn't support for support's sake—my mother suffers no fools, myself included. She truly believed it was a wise choice. And so, it was written.
AADS: Many times, in today's society, liberal arts degrees carry a stigma and cause concern that students will not be as successful as their STEM-major counterparts. Having graduated from a liberal arts institution myself, I know that the knowledge imparted upon students is all-encompassing and far-reaching, What, in your opinion, is one of the major highlights of graduating with a degree in Black Studies? What can students do with a liberal arts education; more specifically with a degree in Black Studies?
Sasha: The best thing I can tell you, and this doubles as a mental health tip: measure success by your own standards. Not anyone else's. No one else has to live your life. Only you know what truly fulfills you, and only you can make it happen. So, do you want to waste your time fulfilling the obligations of the expectations of someone else's definition of success, or would you rather live a life that makes you happy and makes you feel like a success in your own skin? (Presumably, the latter is what draws most students to become AADS majors in the first place.) The debate between liberal arts and STEM degrees warrants an honest conversation about "tradition" vs. "2017-2018." I'm what they call a millennial (Hi!). Depending on whom you ask, it has its positive and negative connotations. But here's what I can tell you about us: we change jobs constantly, we pick up and develop side hustles even faster, and we currently make up the majority of the workforce (Hi, hi, hi!). In addition to that, we find ourselves situated in an age where information is widely available, to you and everyone else, so you will have to learn new skills to stay competitive. You will have to learn new technologies. And you will have to keep abreast of how social, technological and political developments are influencing the world around you. It is not a job market that will allow you to rest on your laurels and the information that you learned a long time ago. Knowledge and information moves on, reproduces and transforms at a rate we haven't seen in modern ages. As millennials, we are not creating a workforce that is conducive to complacency and tradition. STEM is an important field and we definitely need more black and brown representation. Especially given that our populations are the major consumers of tech, we should definitely be the ones to produce it as well. I would highly encourage any young person who has the passion and the desire to pursue that route to do so. We need you there. But if you're not into it, it's important that you don't force it on yourself. I mean you can, but dissatisfaction will show up at some point. What your degree will earn you (e.g., salary, room for career growth) and what it's good for are major points of concern in college, but some of those concerns and deductions are a bit exaggerated and stiff. STEM is a useful and prosperous field, yes, but realize that this is not the only path to success, and you can certainly be successful with a non-STEM degree. If being happy and making money is a balance you want to find in life, so long as you have the drive you can definitely make a way. Don't let your college degree limit or define you, and don't hang your whole future on your undergraduate degree. That is an old-school paradigm that will ultimately leave you wanting, bored, and again, living according to someone else's definition of success. Your hustle and your creativity matter way more than your degree or your pedigree. Don't feel confined by your degree or a job title. There's much more flexibility in the job market than you might imagine. And if you want to create a lane that you see isn't open yet, there's a whole world out here that will encourage you to do so. It may sound cliché, but if you really want to have a stable future for yourself, you cannot rest on your laurels. There are too many people waiting to outwork you and out-hustle you for that kind of complacency (hello again).
AADS:How has your AADS/AFR education shaped your individual voice, work, and personal perspective?
Sasha: My AADS education taught me to center myself in my understanding of all things. This may seem evident, because as people we typically prioritize our own personal perspective. Yet my pursuit of AFR studies was an effort to ensure I had a personal and emotional grounding in myself as a black queer woman in the world. I can speak authentically on behalf of myself, and I'm unapologetically grounded in myself. Moreover, in granting this space and expression for myself, I'm much more receptive and encouraging of other people's expressions of their truth and individuality. I understand that it is not meant for me to agree with everyone, but rather to respect and accept others in the same way that I want to be. And in my skin, I have to demand a lot of this, often. So I definitely make a great effort within myself to allow others this space and power, regardless of if I like who they are. Though my AADS degree grants me a level of credibility in the professional realm, I have greater respect for self-knowledge, and a person's ability to have insight into their own lived experience and their ability to articulate it. I have found that I am not easily impressed in this regard, but I have also found myself increasingly surrounded by an incredible diversity of human beings who aim to bring forth their full potential to this world. And they look, speak, live and act in all kinds of ways. Because of this, the network of people I know is much more varied than any corner of it ever anticipates.
AADS: If you were to give any advice/wisdom to current AADS students, what would that be?
Sasha: I would encourage you to invest in what you love. This is not only a recipe for happiness, but also a much better approach to the job market that exists. It's not as traditional as it used to be, and certainly not as traditional as academia may trick you into thinking it is. The decisions that you make in college are not your last and final opportunities to build a good life for yourself. This is an ongoing process and an ongoing task. College is a beginning, it's a start. See it as a launching pad. You are nowhere near the end of your journey and if you're smart—truly as smart as you think you are—you will continue to invest in your self-improvement and your education. Don't let college be the last time you think you need to learn something new. But while you're in school, you have community, mentors, teachers, guides and plenty of opportunities to practice your knowledge and skills. And comparatively, UT's tuition is pretty cheap. So while you're in school, you might as well go ahead and learn everything you want to learn and gain the experiences that will put you ahead. Again, it's an investment in you. Build your talents. Blend your talents. You are the package. You are the value. Not just your degree. You are what you need to invest in. Keep that at the forefront and you'll always be good. Moreover, in the real world, people want to see what you can do, not what degree you possess. It's a more innovative and entrepreneurial world than that. You will need a blend of skills and knowledge from the liberal arts, the natural arts, and tech. And you can learn all of these things in your lifetime! As you come to understand yourself better, you will come to understand what it is that makes you unique, and what your specific talents are. You will find a way to flip those, I promise. Consider not just my opinion, but also the examples of friends who graduated from the AADS program with me: one is an industry-leading salon owner who specializes in hair loss and restoration among African Americans. One is an educator that's so good at his craft that not only is he constantly headhunted among the New York's most prestigious schools, but, accordingly, his salary is competitive and on par with that of an engineer. Another, after using her law degree for some years, now recruits engineers for some of the nation's leading startups (note: she possesses not a single STEM degree). Another friend of mine also pursued an MPH, and she's a leading and headhunted researcher in the public health sphere. The point is: we're not struggling out here with Af-Am degrees. Please don't let anybody make you think that that's what will happen. In fact we often have more possibilities than we know what to do with, and we constantly consult each other about how to navigate all the opportunities we didn't anticipate would be open to us. The reality is that you will only be stifled if your mindset puts you there. Don't let anyone trick you into thinking you can't do anything with a degree in Af-Am Studies! We have fun. We travel. We build. We have businesses. We're out here! And we've got you! We're waiting on you and the opportunity to tap into all your potential and give you that leg up that you'll need. If you're truly committed to your community, you'll have a whole community to fall back on. What you will find is that there is an entire network of like-minded folks that want to help bring your visions to life. You may not see it now, but trust me, we're waiting on you, and we're excited for you.
AADS: What has been your greatest professional accomplishment to this day?
Sasha: I know I have community. It goes beyond your books, it goes beyond theory. It can be real, and you wouldn't believe how many like-minded and like-hearted people there are. So, to put it into practice and have the results that we did is one of the most satisfying and validating things.
AADS: Was there one professor that you connected with most while you were majoring in African and African Diaspora Studies? One professor that you consider to have been a mentor? What about them resonates with you so deeply?
Sasha: It's a shame to only pick one! Dr. Omi Jones certainly had the most impact on me—it was her course that introduced me to the field and to the department. I was exposed to the arts. People express themselves in ways that I needed to see and in ways that could set me free. I wouldn't have opened up myself to a new beginning like this had it not been to Dr. Jones' course. I'm truly grateful for her spirit, and her dedication to education, enlightenment and expression has clearly left a mark on me. But there are others... Dr. Eric Tang grounded and made clear the connections between Africans in the diaspora and our cross-cultural connections. Dr. Moyo Okediji pushed me to use my more analytical mind too, my creative mind and being able to express it. His Diaspora Vision course. Borders and how we express the desire to transcend, love, reminisce about the things that lie between. Dr. Stephen Marshall's Politics of Black Literature course made me fall in love with Black authorship—James Baldwin, Toni Morrison. I learned that I could critique, analyze deeply and draw strength from it. Do you see why it's not fair to ask me to choose just one? All of them have truly made me a better person by making a concentrated effort to cultivate my mind, my spirit, my self-awareness and my ability to express these things. I couldn't ask for more priceless gifts.
AADS: What do you believe makes someone an activist?
Sasha: I believe an activist is someone who liberates others. The world is very binding—to material things, debt, borders, the flesh. Many of us are also bound to paradigms that don't serve us, rather, serve something that aims to keep control of us. As you become clearer about who you are and you strive towards freedom, you will become clearer about what those forces are that bind you. We don't have to treat people that way. It hurts people, it costs money, it destroys families and crushes hope. Yet we act like this is a good course of action. That is not OK, and that is why you have so many people who fight for immigrants' rights. An activist is a person who first removes those shackles from herself, and then figures out a way to remove the shackles of others. An activist is someone who can show you a new way to consider things, and, hopefully has an outline for how that idea can manifest. This can look at lot of different ways. The mind is the most active part of our being. Knowledge is power; that's why there's been so much effort to limit and put a price tag on it. For many of us—especially we millennials saddled with student loan debt and fighting for a balance between freeing ourselves from it and being self-satisfied—we free ourselves. Knowledge is power, but it is also freedom.
---
Photos from Sasha's Shoot
---
Want To Be Featured?

If you are an AFR alum and would like to be featured in our Alummi Spotlight Series, we'd love to hear from you! Please email afr@austin.utexas.edu to let us know you're interested! We'll contact you with further information on scheduling a meeting (either in person, Skype, or phone). Your feature will be posted online, blasted via the AADS social media platforms, and a poster will be printed and placed on the door of the Advising Office. We want to show off your accomplishments!