Elizabeth Scala
---
Professor

—

Ph.D., 1994

,

Harvard University
Ellen Clayton Garwood Centennial Professor of English, Graduate Advisor for Medieval Studies, Director of English Honors Program
Interests
---
Chaucer; the history of Chaucer studies; the textual environments of medieval literature.
Biography
---
Broadly interested in the ways medieval texts survive in the modern world, I work at the intersection of medieval and post-medieval studies, a way of thinking about literary history that encompasses and defies traditional historical boundaries of English Studies. I seek to understand the ways medieval texts remain with us, in whatever disguised and altered forms and in new media. My classes include the plays of Shakespeare, gothic and Romantic medievalism, Victorian book history, children's fantasy literature, and modern film. But I also teach the medieval texts themselves, along with their classical precursors, to show students how much the issues that they care about now are alive in some of the earliest literary productions the West knows.
My own work focuses on Chaucer, critical theory, and the textual environments in which Chaucer's work proliferates and survives in both medieval and modern forms. I have become interested in and teach with the Renaissance editions of Chaucer, of which we have a unique archive available at UT in the Harry Ransom Center's Pforzheimer Collection. These form part of one current research project, Shakespeare and the Renaissance Chaucer Book, which seeks to understand the playwright's use of the medieval poet in the context of early modern book culture. Part of this project recently appeared in the newly redesigned TSLL. (https://utpress.utexas.edu/journals/texas-studies-in-literature-and-language).
My recent books include The Canterbury Tales Handbook (WW Norton, 2019) and Desire in the Canterbury Tales (Ohio State, 2015)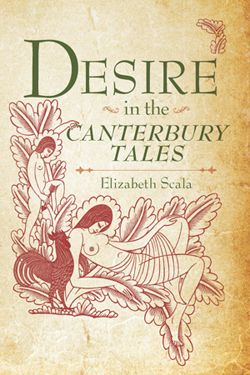 Curriculum Vitae
---
Profile Pages
---
External Links
---