Professor Michael Adams featured in the Alcalde for his work as a painter
Tue, December 2, 2014
As a recent article in the Alcalde, the Texas Exes publication, states, Professor Michael Adams is many things: "UT English professor; director of the prestigious Dobie Paisano Fellowship for writers; former Michener Center associate director and advisor; author of novels, short stories, and essays; legal writing expert; dog lover; and universally acknowledged sweetest, gentlest man you'll ever meet." He is also, as it turns out, a prolific painter in his free time.
Adams, who is largely self-taught, "studied the old masters' techniques to slowly build up layers of oils, which take two or three years to dry."
"Sometimes, Adams says, his academic work and his painting feed each other. He's at work on a series of paintings based on poetry, including five paintings inspired by the Wallace Stevens line 'Death is the mother of beauty.'"
Read the rest of the article about the artistic work of Dr. Adams as well as Dr. Keith Livers, a UT professor in the Center for Russian, East European, and Eurasian Studies, here, at the Alcalde website.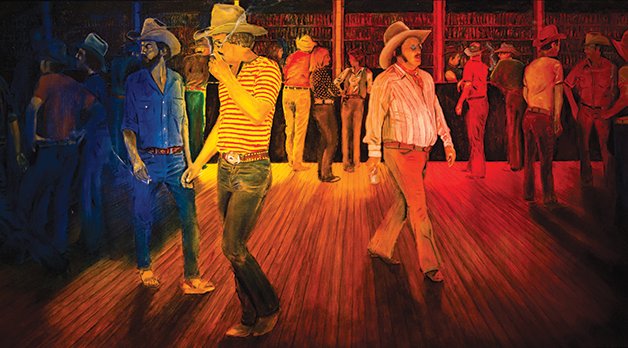 a painting from Adams's series, "Neon Cowboy"
---