Master's Programs
Edit Headline Text
Edit Subhead Text
Fall 2024 Admissions
For anyone applying to enter one of our M.A. programs in Middle Eastern Studies in theCenter for Middle Eastern Studies in Fall 2024, the GRE is optional. Any questions concerning this policy for M.A. applicants, please contact the Graduate Coordinator, Taylor Peterson (taylor.peterson@austin.utexas.edu).
Learn More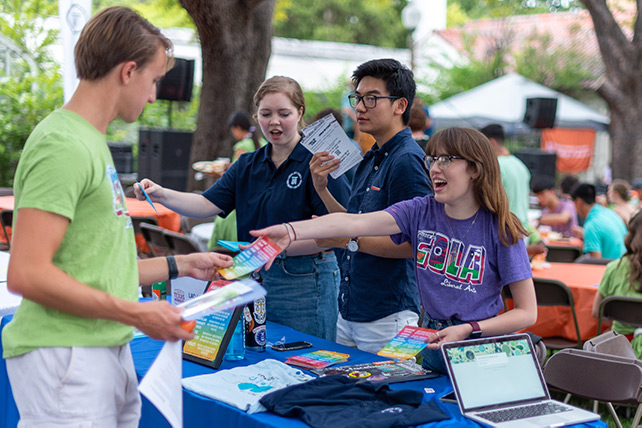 Offered by the Center for Middle Eastern Studies, the MA in Middle Eastern Studies (degree code 668000) is an interdisciplinary academic degree designed to broaden and deepen the student's knowledge of the languages and cultures of the Middle East. The program develops a strong knowledge base, preparing students for leadership positions as professionals in areas such as government, NGOs, business, consulting, foreign policy, international law, journalism, and translation. Approximately 30% of graduates continue to doctoral studies in their chosen academic discipline.
Check out our Spring 2023 Graduate Seminars here.
We encourage prospective students to read our Graduate Admissions FAQ, as many general questions are answered on our website.
Dual-Degree Programs
In addition to the MA in Middle Eastern studies, the Center for Middle Eastern Studies offers seven dual degrees that allow graduate students to simultaneously earn an MA in Middle Eastern studies and a second degree from one of UT's professional schools. Dual Degree students typically spend a third year at CMES (or a fourth, in the case of the Law dual degree). MA degree requirements remain the same for Dual Degree students as for non-dual degree students.
Visit this page for more information on the dual degrees available alongside the MA in Middle Eastern Studies.
Portfolio Programs
Portfolio programs are opportunities for students to obtain credentials in a cross-disciplinary academic area of inquiry while they are completing the requirements for a master's or doctoral degree in a particular discipline. Portfolio programs are not degree programs and usually consists of four thematically related graduate courses and a research presentation. Portfolios are meant to build upon students' departmental coursework in order to provide new perspectives on their fields of study.
More information from the Graduate School as well as a full list of Portfolio Programs across the university is available here. You may also review highlighted programs that compliment the course of study in CMES.