Application
Admission
ApplyTexas.org will open for Fall 2023 Freshman admission on August 1. Students may also use the Common Application
Priority Communication date for Fall applicants: November 1
Application deadline for Fall applicants: December 1
Learn More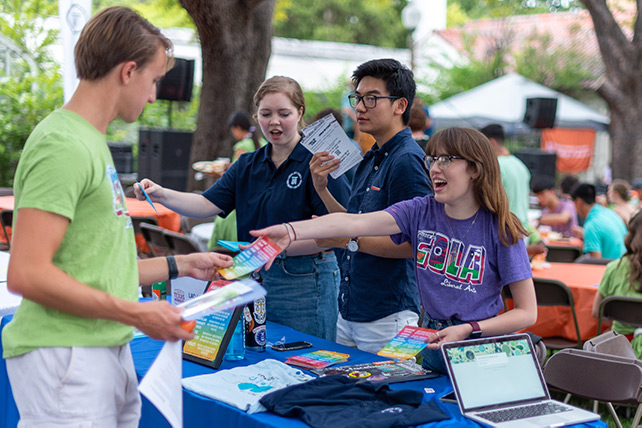 November 1 is a priority on communication. Applicants that have met the November 1 date for Plan II Honors will receive notification about their application to our program by February 1, 2023. This notification may be a final decision or a deferral until March 1, 2023. Applicants that meet the regular deadline of December 1 will be notified of a decision no later than March 1, 2023. Some decisions for Plan II Honors are made and delivered earlier than published decision dates.
SAT/ACT UPDATE: High school students who apply to The University of Texas at Austin for fall 2023 undergraduate admission will not be required to submit an ACT or SAT test score as part of their application, as such Plan II Honors will not require SAT or ACT scores as part of the application requirement.
Application Checklist for Plan II Honors Applicants:
ApplyTexas Application (or Common Application) for Freshman Admission (Plan II is housed in the College of Liberal Arts, Liberal Arts must be 1 of your college choices; note we DO NOT have to be 1st choice)
$75 Application Fee (Application Fee Waiver information)
Student Information Form (if applicable)
Official High School Transcript and rank
SAT/ACT (due to COVID-19 UT Admissions supsended this requirement for Fall 2023)
Essays
Complete Plan II Honors prompts on Apply Texas (Common App) OR on Honors Application
Expanded Résumé
To apply to Plan II Honors, submit:
Students may apply for Plan II Honors on the ApplyTexas or Common application or via the on-line HONORS APPLICATION, which is accessible only after an applicant has completed and submitted the ApplyTexas (or Coalition Application) application. Plan II is housed in the College of Liberal Arts, therefore, Liberal Arts must be 1 of the 2 college choices. If you do not complete the honors application on ApplyTexas (Common Application) you may access the application via My Status. CLICK ON THE HONORS TAB on your MY STATUS page to access the honors application. Details on how to complete your ApplyTexas or Common application can be found at Texas Admissions.
The Plan II PERSONAL STATEMENT will be listed as an additional prompt to answer on ApplyTexas (or Common). The Personal statement consists of five sentences allowing you to tell the reviewer about yourself. Please use these five sentences to describe yourself, your life, and your experiences that taken together form an accurate view of who you are and why the interdisciplinary nature of the Plan II honors program appeals to you. This is your chance to shine. Be creative! Be unique! Do not list what was provided in other areas of your application.
Plan II also requires a short answer response. Fall 2023 Plan II prompt: If you could add another cabinet position to the US President's White House, what would that position be and why?
Lastly, you must submit an EXPANDED RESUME Plan II tips on the résumé
Additional Information:
Plan II does not require a teacher or counselor recommendation.
Do not send any application materials to the Plan II Honors office. All materials must be submitted to the University of Texas at Austin Office of Admissions. Electronic submission preferred in all cases.
Please do not submit documents via US Mail
HOUSING:
An applicant may apply for on-campus housing as soon as the UT Austin application process is complete.
Because housing choice order is based on the date of the housing application, the earlier the application is submitted, the better.
Applicants should NOT wait until they receive an admission offer or until they have made their college choice decisions if they want to live on the UT Austin campus.
The Housing application may be found at applicant's MyStatus site, under the Housing tab.