Adding a Profile Image
New Photo Uploader
The Web Editor now includes a photo editing and uploading tool available in the profile editor screen.
You no longer need to submit your photo to LAITS to update your profile.
Learn More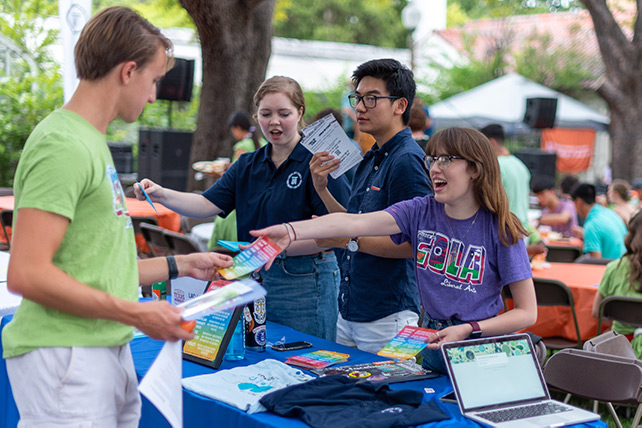 These instructions are for faculty, graduate students, and staff profiles. The photo upload tool will be at the top of the profile edit screen.
More information and samples of good (and bad) profile photography are available in the Portrait Photography Guide.
1. Remove Previous Photo
If your profile has an older photo, first, click the red "Remove" button to the right of the photo.
2. Choose New Photo
Click the "Choose File" button and select the new photo to use for your profile. The new photo must be on your computer to be able to be selected. The photo does not have to be a specific size but should be at least 320 pixels wide and 400 pixels high. You will be able to crop the photo before you save it.
3. Resize and Crop Photo
Use the handles to set the crop size and position for your new profile photo. The darker areas around the cropping rectangle will be deleted from the final image. Do not include any of the green border area in your profile. If you can not crop the image without including the green background area your image is too small for use as a profile image. You will need to find a larger image to use.
You can remove the new image by clicking the red "Remove" button. You can reset any adjustments you've made by clicking the gray "Reset crop" button. Once you have adjusted the cropping rectangle, click the blue "Save photo" button. Clicking the "Save photo" button will crop the photo and save it to your profile immediately.
To add or update a profile image, please use the LAITS Online Photo Submission Form.
The LAITS online form allows you to upload a photo and all the relevant information needed to make sure the photo is posted on the appropriate page.
LAITS Student Technology Assistants under the guidance of LAITS staff curate profile photos for faculty, staff and graduate students using the Webeditor.
Photos that are too small, low resolution, or in the stye of informal selfies, will not be uploaded as formal profile photos on the list pages, or at the top of individual profile pages.
Photos that are informal in nature can be added to the web page body for faculty, staff, and graduate students by these individuals themselves, as they all have access to their own web-presence.
Contact LAITS Photography Services bugdavidson@austin.utexas.edu to learn more about when professional photoshoots are scheduled in LAITS studios for Faculty,Staff & Graduate Student groups.