Jefferson Scholars
Jefferson Scholars Program
Applications for the Jefferson Scholars program for Fall 2022 are now open!
Learn More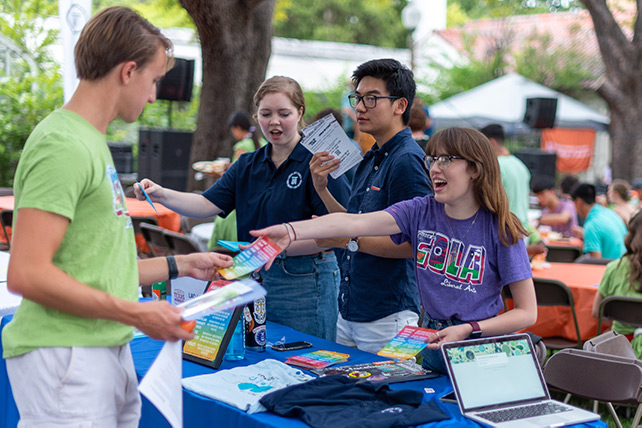 "The unexamined life is not worth living." - Socrates
Applications to the Jefferson Scholars Program for Fall 2023 are closed.
The Jefferson Scholars Program is a challenging, six-course integrated sequence in the great books and ideas of the ancient, medieval, and modern worlds. Taught by stellar faculty and including extensive opportunities for discussion and practice in writing, this program allows you to meet six UT core requirements while earning the Certificate in Core Texts and Ideas, which will be recognized on your transcript at graduation and will satisfy the minor/certificate requirement for majors that have one.
An Education for Liberty
You are young, talented, and the world lies before you. No one else can decide for you how you should use the unprecedented freedom we enjoy in America. Reflect on what freedom is, when and why it is good, and how you might best take advantage of it.
An Education for Leaders in Every Field
Learn what great leadership is all about. Learn to ask the questions no one else is asking, but should be. Explore the deepest needs and passions that motivate people. Reflect upon where we should be going as a people, and what it might take to get us there.
An Education for Life
Have great conversations. Make friends with fascinating people. Think about what you really believe in, and what you really want to accomplish in this one life you have to live.
SAMPLE PROGRAM OF STUDY
First semester: Jerusalem and Athens
Scholars will begin by exploring two rival visions of the best life that have profoundly influenced western civilization, one exemplified in the reverent faith of Abraham and the tradition of the Hebrew prophets; the other in the golden age of Greek democracy and Socrates' insistent questioning. Reading classic works of religion, poetry, drama, history, and philosophy, you will reflect on different accounts of good and evil, freedom and oppression, humanity and divinity, and the principles that rule the cosmos.
CTI 304 The Bible and Its Interpreters (carries UT Writing and Global Cultures flags)
UGS 303 The Challenge of the Greeks (satisfies UT Signature Course requirement)
Second semester: The Quest for Justice
The second semester includes a survey of the history of political philosophy with a focus on the themes of justice, rights, good government, and the character of a healthy society. This course will be paired with a study of the way the American Founders drew on this tradition to define our own political principles, as well as some of our major struggles to put these principles into practice.
CTI 302 Classics of Political and Social Thought (satisfies UT Social Science requirement)
GOV 312P Constitutional Principles: Core Texts (partially satisfies UT US Government requirement, may carry Cultural Diversity flag)
Third semester: Leaders and Leadership
The third semester pairs a course in great literature, covering classical, Shakespearean, and modern drama, with one on the American presidency. Together these courses will provide sustained reflections on good and bad character, strong and weak leadership, and how hard decisions are made in the face of temptations, national crises, partisan struggles, and uncertainty.
CTI 350 Masterworks of World Drama (satisfies UT Fine Arts requirement)
HIS 365G History of the Presidency (partially satisfies UT American History requirement, carries UT Ethics and Leadership flag)
A RICH INTELLECTUAL COMMUNITY
The Jefferson Center is a community of scholars and students who share a love of great books and thoughtful conversation. Jefferson Scholars will get to know professors over lunch and fellow students at coffee hours, informal book discussions, and organized outings to plays, classical music concerts, jazz clubs, and museums. Both inside and outside of class, the scholars can thus enjoy the benefits of a small liberal arts college within a large university setting.
WHAT STUDENTS ARE SAYING ABOUT JSP
I really can't say enough good things about my JSP classes. The teachers, subject matter, and small section size really are fantastic.
My favorite part of JSP is the small community that it gives me at UT.
I have had the best time with the Jefferson Scholars Program! [My professors] have been phenomenal . . . and have greatly expanded my perspective on life. I find the courses they offer to be a wonderful break from the world of the sciences. Many times I have felt downtrodden after memorizing equation after equation, but my JSP courses always put that fire back into me.
I love how intently we examine each foundational work.
Studying core texts has been so helpful in learning how to critically examine what I once took for granted.
I am beyond thrilled that I get to be a part of this program and have the ability to take these classes even though my major is in the College of Natural Sciences. The discussions are what make the class so phenomenal . . . it's an intensive yet great program.
I love all the events the program has to offer (lunch lectures, the Sunday tea, etc.).
The material is fascinating, the classes are challenging but not impossibly difficult, and the teaching style (i.e., classroom-based discussion) greatly facilitates my understanding of the texts. Additionally, the Friday lectures are fantastic.
The Jefferson Scholars Program has so far been my favorite activity in college. I came into college as a business major (to do something practical), but because of my JSP courses I have since declared philosophy as a dual-degree. Genesis and Classics of Social and Political Thought are my first and second favorite courses of this semester.
I cannot wait for my upcoming Jefferson Scholars classes.
I absolutely love my JSP classes! Both of my professors are among the best teachers I've had in my life. The classes almost always facilitate stimulating discussions, and the readings are engaging on their own. I probably enjoy the lunchtime talks most of all.
I've thoroughly enjoyed being a part of the Jefferson Scholars Program. The classes I've taken this semester through the program have been my favorites and the ones that I look forward to the most each week.
Conversation topics are very interesting; I'm learning a lot and feel my understanding of the world constantly widening.
Classics of Social and Political Thought is for sure my favorite class of the semester. It has fundamentally changed how I think about my life.
The classes and professors are phenomenal, and it's very refreshing to be in classes where people are honestly interested in discussing and furthering a topic.
More so than in any of my other classes, I have been able to apply what I have learned in my JSP classes in daily conversation and in my concepts for my Art classes.
I just find it amazing how much I have read and learned in just my first semester here. This is probably the most I've read for school, and I'm enjoying it. I had several other choices in universities that I could have attended, but I'm glad that I chose UT because of many opportunities like this that have given me a chance to grow and give me a well rounded education that I feel I wouldn't have gotten at other institutions.
I very much enjoy my Jefferson Scholars classes this year. They have given me a chance to speak my mind and explore my thoughts where my other classes have not. I definitely look forward to them every week.
I truly believe I'm getting a first-rate liberal education.