Edit Headline Text
Edit Subhead Text
Summer 2022 - COVID-19 Office Update
The Latino Studies offices will be locked during the summer. Please contact us via email or phone to make an appointment.
The Latino Research Institute offices are closed at this time.
The Gloria Anzaldúa Student Lounge will remain accessible to MALS students from 8am-5pm M–F with their student ID.
Latino Studies staff are working hybrid schedules and remain responsive on email. To locate our emails, please refer to the Staff List in the navigation to the top right.
Learn More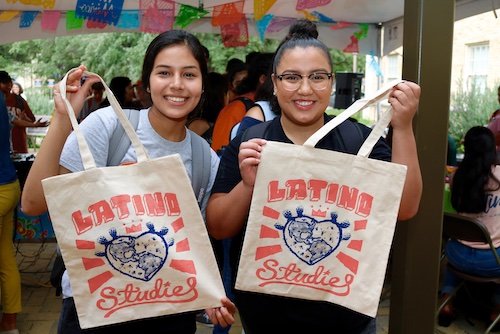 Three Units. One Mission.
Latino Studies is a powerhouse of Latino thought and advocacy at The University of Texas at Austin, fearlessly upholding the mission of ethnic studies by creating space to explore and understand the lives of Latinos in the U.S. while using our knowledge and resources to support Latino communities everywhere. Since 1970, we've grown from a student initiative calling for courses on Mexican American topics to a substantial organization of recognized stature encompassing three program units: as the oldest unit, the Center for Mexican American Studies (CMAS) builds on its legacy of collective action by connecting our students to the Austin community through outreach and public events. The Department of Mexican American and Latina/o Studies (MALS) offers a full spectrum of interdisciplinary courses that challenge traditional narratives through emboldened scholarship. The newest of our units, the Latino Research Institute generates data and research that is vital to sustaining healthy, productive and just environments for Latinos, working closely with policy makers, activists, and other community partners to turn research on topics like immigration, women's and mental health, and education into practice. Together as Latino Studies, all three units are fiercely committed to the empowerment of students, scholars, and communities for the purpose of realizing a just and affirmative future for all.
Main Office
210 W. 24th Street
GWB 2.102, F9200
Austin, TX 78712
Phone: 512-471-4557
Fax: 512-471-9639