Fri, May 19, 2017
Leah Hampton
"Boomer," a short story by Leah Hampton that illustrated the impact of Trump's election against the backdrop of destructive Appalachian wildfire, won the $50,000 Keene Prize for Literature at The University of Texas at Austin.
Established in 2006 through an endowment to the College of Liberal Arts by 1942 UT Austin graduate E.L. Keene, the prize is one of the world's largest student literary prizes, awarding $50,000 each year to an undergraduate or graduate student who creates "the most vivid and vital portrayal of the American experience in microcosm."
Hampton was also recognized for a second story, titled "Devil," which depicts the emotional journey of an Air Force sergeant visiting his childhood home before he ships out to Afghanistan. Hampton said she drew inspiration for both stories, and others she's written, from her hometown of Waynesville, North Carolina.

"Being chosen for the Keene Prize feels like an incredible gesture of support from the university," said Hampton. "It's rewarding to know that the environmental and political issues facing my community can resonate with a wider audience."
Three finalists each received $17,000.
Samantha Karas, a second-year poet in the Michener Center for Writers, was selected as a finalist for the second year in a row for her play, Hard Money, "a pulp Western romance inspired by the lives of musicians on 30 Minutes Behind the Walls, a wildly popular country-western radio show produced and performed by inmates at Texas State Penitentiary in the 1940s," Karas said.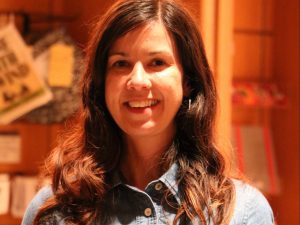 Julie Poole, who received her Masters of Fine Arts this spring from the New Writers Project in the Department of English, won for her collection of poems, Up North, which "explore notions of home, when 'home' no longer exists," Poole said. Her poems encapsulate the heartache and challenges of a mother-daughter relationship, torn by unemployment, bankruptcy and homelessness.
Lara Prescott — a second-year Michener Fellow, 2016 Crazyhorse Fiction Award winner and Fania Kruger Fellowship recipient — was named a finalist for an excerpt titled "The Muse" from her forthcoming novel, The Living Ones, a polyphonic novel about the "secret history" behind Boris Pasternak's masterpiece, Doctor Zhivago, in the era of Soviet repression.

Poetry, plays and fiction or non-fiction prose are evaluated by the Scholarship Committee to select the student who demonstrates "the greatest artistic merit and narrative mastery of the English language and has shown the greatest promise of becoming a professional writer."
"I want to gush about the finalists and how stellar the Michener Center and New Writers Project programs are. I'm honored that I get to work with these amazing writers every day," Hampton said.
Judges of the 2017 Keene Prize included English department chair Elizabeth Cullingford, UT Press director Dave Hamrick, Austin novelist Tom Zigal and chair of the Department of Theatre and Dance Brant Pope.
---