Welcome to the Department of American Studies
American Studies focuses on the cultural, social, and intellectual life of the United States of America. Its students analyze the American past and present from the perspectives of several disciplines, learn to synthesize their knowledge, and develop the critical habit of mind needed for cultural analysis. Such skills, we believe, are essential for the formation of a knowledgeable and politically engaged American citizenry.
Work in American Studies can lead to and enrich a wide variety of careers. Many of our graduate students become teachers and scholars at the college and university level, but significant numbers of both graduates and undergraduates have gone into journalism, radio, TV and film work, museum curating, law, public relations, editing, advertising, government service, secondary school teaching and administration, and creative writing.
Read more about American Studies at UT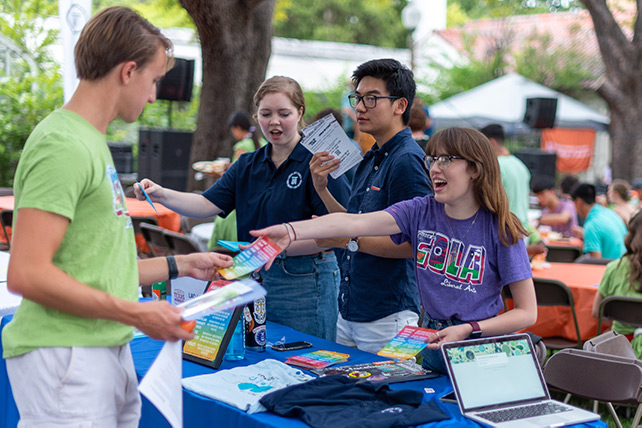 Jo Giese Excellence Endowment in American Studies
The Department of American Studies is delighted and honored to announce the establishment of the Jo Giese Excellence Endowment in American Studies. A graduate of the American Studies program in 1969, Ms. Giese went on to a path-breaking career as a radio journalist, author, teacher, and community activist. She attributes much of that success to her undergraduate degree, especially the experience of researching and writing a senior thesis on the American architect Frank Lloyd Wright. Although Ms. Giese traveled to some of Wright's important buildings, financial constraints limited her research. She established the Jo Giese Excellence Endowment to assist outstanding American Studies students in doing more than she was able to do. As she puts it, "this Endowment seeks to make it financially possible, easier, and more fun for students to do their research, and to travel when necessary, whether domestically or abroad.
Read full profile