Fri, Feb 9, 2018
Collection of Carl & Marilynn Thoma
What: The 2018 Lozano Long Conference, "Create, Consume, Collect: Past and Modern Lives of Spanish American Artifacts," invites scholars from across the Western Hemisphere to explore three centuries of Latin America's colonial past through its silent but powerful witnesses: artifacts.
When: Feb. 21–23, 2018
Where: Feb. 21-22 at the Blanton Museum of Art, 200 E. Martin Luther King Jr. Blvd; Feb. 23 at LLILAS Benson, SRH 1.208

Who May Attend: This event is free and open to the public. RSVP on the conference's Facebook event page.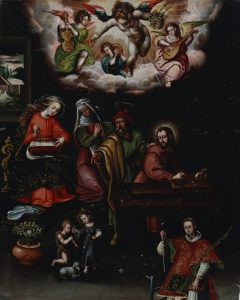 Background: In the aftermath of the Spanish conquest of the "New World" in the early sixteenth century, complex cultural negotiations developed among the indigenous populations living in the area and the Spaniards they encountered. Artifacts of all kinds, produced during three centuries of colonial domination embrace in their materiality the social relationships that allowed for their existence.
The 2018 Lozano Long Conference brings together scholars from Argentina, Chile, Ecuador, Mexico, Peru, Spain, Venezuela and the United States to unravel and investigate the social fabrics of these diverse populations through the material culture they've left behind. Scholars and attendees alike will reflect on the meanings and original contexts of the manufacture of artifacts and grapple with the ethical questions of preserving, collecting and sharing the physical evidence of the past.
The annual Lozano Long Conference is organized by LLILAS Benson Latin American Studies and Collections at The University of Texas at Austin. This year's theme has been inspired by the recent long-term loan of the Carl & Marilynn Thoma collection of Andean Colonial art to the Blanton Museum of Art. It will be co-sponsored by the Blanton Museum of Art, the College of Fine Arts, and the College of Liberal Arts.
Visit the conference website for program details and a speakers list.
Above image: Diego Quispe Tito (Cuzco, Peru, 1611–1681), La casa en Nazaret [The House at Nazareth], Cuzco, Peru, late 17th century, Oil on copper, Collection of Carl & Marilynn Thoma
---