Tue, Jun 4, 2019
Aerial view of center-pivot irrigation farming in Kansas. Image: NASA
By Alex Reshanov
When pressed to summarize the path of his wide spanning career, Paul Adams offers one word, "discourse." Adams, a professor at UT Austin's Department of Geography and the Environment, is interested in how people discuss often contentious subjects and what makes these communications more or less successful.
As a geographer of media and communication, Adams has undertaken diverse topics such as biases present in maps accompanying news articles, how cell phones and social media use location data, and which media platforms are most effective for conveying environmental messaging.
Among his most recent projects is an attempt to address water scarcity in a corner of the world not particularly fond of words like "climate change" and "conservation." The Texas Water Stories study is part of UT's Planet Texas 2050 research initiative. Adams' field site is the Texas Panhandle region at the state's oft-forgotten northwest tip. So far north, in fact, that when presenting his work at a recent Planet Texas 2050 showcase, Adams noted that the region was partly cut off in an earlier slide.
The Panhandle is a flat, dry, windy place described as a desert by settlers and initially deemed unfit for farming. Yet anyone flying over the region today would see a polka-dotted surface of crop farms, their round shape a result of the center-pivot irrigation system that allows agriculture to thrive in such an arid climate. Much of the crops are used as animal feed for meat production industries that have sprung up alongside. This transformation of the landscape was made possible by the Ogallala Aquifer, a vast, underground water source that spans eight U.S. states and provides about 30% of the groundwater used for irrigation in the country.
Read the rest of this blog post on Life & Letters.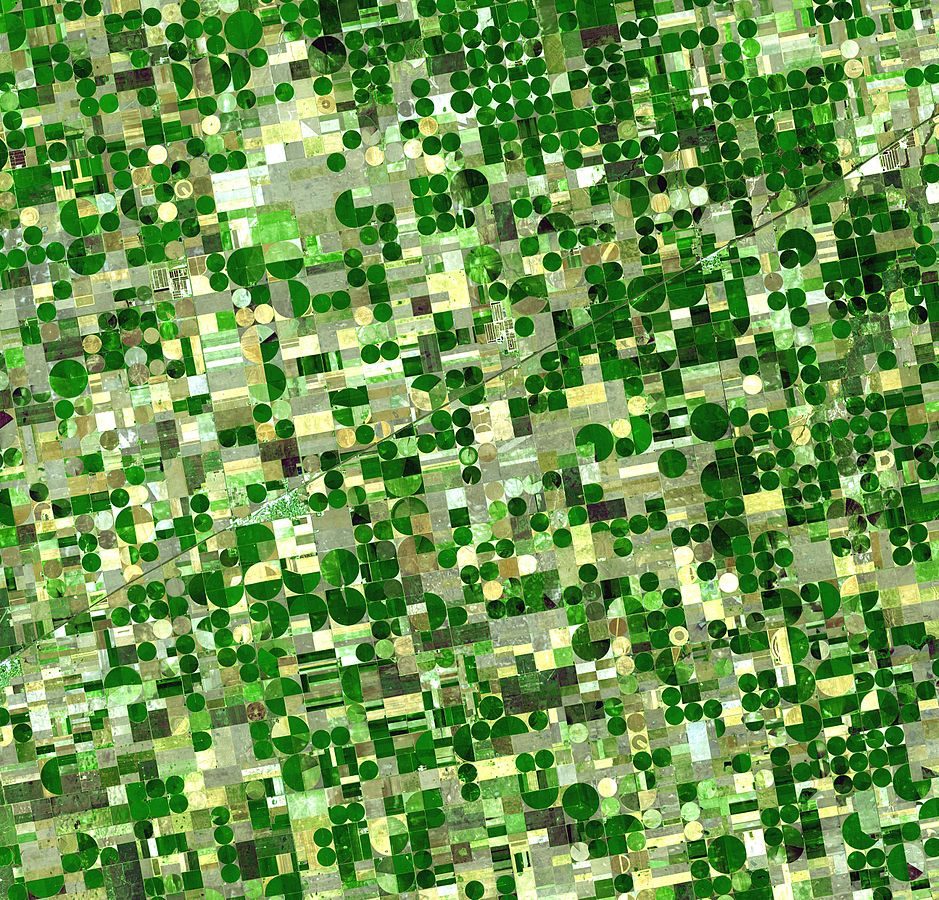 Aerial view of center-pivot irrigation farming in Kansas. Image: NASA
---