Mon, Dec 4, 2017
Shantanu Banerjee shows a Hook 'Em in front of the Great Wall of China.
As a recipient of the Schwarzman Scholarship, Shantanu Banerjee, an economics and government alumnus ('16) from The University of Texas at Austin, sees his studies in Beijing as a stepping stone to a career informing United States foreign economic policy.
Banerjee was one of 142 selected for the Schwarzman scholars class of 2019, which comprises students from 39 countries and 97 universities. He is the second UT Austin graduate to receive the award.
The Schwarzman Scholars program was inspired by the Rhodes scholarship, which was founded in 1902 to promote international understanding and peace. Now welcoming its third cohort, the $450 million endowment supports up to 200 scholars annually from the U.S., China and around the world for a one-year master's degree program in global affairs at Tsinghua University. Banerjee has chosen to pursue a concentration in economics and business within the degree program.
"I wish to one day be in a position to inform U.S. economic policy on China," Banerjee said. "This fellowship will give me the background and credibility to maybe one day serve in such a role."
Banerjee first became interested in economics and policy in high school and learned what influential roles he could play after a summer spent with the United Kingdom's National Health Service. Only then did he decide to focus his studies on economics and government at UT Austin.
"At the time, I thought I wanted to go to medical school; but then I realized playing even a small part in shaping government policy could influence more lives than a lifetime of practicing medicine," Banerjee said.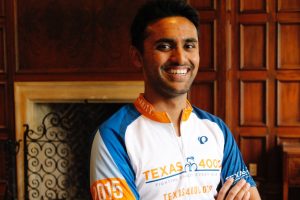 Banerjee credits much of his life-goal planning to the reflection time he gained during a 4,000-mile bike ride from Austin to Anchorage with Texas 4,000, an 18-month leadership and cycling training program for students empowered to raise money and awareness for the fight against cancer. "Most importantly, it helped make clear to me both who and what my priorities are in life," he said.
While working towards his bachelor's, Banerjee was selected to participate in the Archer Fellowship Program, which allows students to gain real-world experience through a semester of coursework and interning in Washington D.C.
"It gave me the support I needed to spend a semester with the Treasury Department, which in turn led to the White House, and later the State Department. Eventually this helped me stand out when it came to looking for my first job out of school," said Banerjee, who spent the last year working for the Federal Reserve's fixed-income desk in Washington.
---