Wed, Feb 27, 2019
Madison Gehler (Army ROTC alum, 2017) flashes a "Hook 'Em, Horns." Photo by John Pellino.
The University of Texas at Austin Army ROTC program was one of eight programs selected nationwide as a 2018 Gen. Douglas MacArthur Award winner for the 2017-2018 academic year.
The Longhorn Battalion will be presented with the award in an on-campus ceremony on March 8 at 10:30 a.m in MAI 212. There, members of the Army ROTC faculty will also be presented with the Army Instructor Badges.
Established in 1989, the Gen. Douglas MacArthur award recognizes the ideals of "duty, honor and country" as advocated by MacArthur, an American general who led U.S. forces in the Pacific theater during World War II. Presented by U.S. Army Cadet Command and the Gen. Douglas MacArthur Foundation, the recognition is awarded annually to the top school from each of the United States Army Cadet Command's eight national brigades — encompassing 275 senior Army ROTC units nationwide.
The university's Longhorn Battalion beat out 35 other programs in the 5th Brigade, comprising all Army ROTC programs in Arizona, Arkansas, Colorado, New Mexico, Oklahoma, Texas, Utah and Wyoming. The award selection was based on achievement of the school's commissioning mission, cadets' performance and standing on the Cadet Command's National Order of Merit List, and cadet retention rate. The Longhorn battalion last received this award in 2000.
"We develop ethical leaders that will provide a lifetime of selfless service to the nation both in and out of uniform," said Lt. Col. Matthew O'Neill, chair of the university's Army ROTC department. "We are truly honored to receive the Douglas MacArthur award and be recognized as one of the top Army ROTC programs in the nation. I am proud to be a part of such a wonderful team of students, faculty and staff."
The full list of 2017-2018 MacArthur award recipients includes:
Virginia Military Institute, which represents Cadet Command's 1st Brigade.
University of Vermont, which represents 2nd Brigade.
Saint John's University, which represents 3rd Brigade.
University of Virginia, which represents 4th Brigade.
University of Texas at Austin, which represents 5th Brigade.
Embry Riddle Aeronautical University, which represents 6th Brigade.
Ohio State University, which represents 7th Brigade.
Pacific Lutheran University, which represents for 8th Brigade.
"The program prides itself on developing the top students and future officers in the U.S. Army. In order to do this, we believe the development starts with the training and education of our world class faculty and staff," O'Neill said. "These cadets are entitled to the same top-tier instruction they receive in their other classes here at UT, and we aim to provide that. Earning the Army instructor badge is just a small step in our development."
Army Instructor Badges are awarded to faculty members who have a least 80 hours of formal instruction; who have received formal instruction on pedagogical practices and teaching strategies; and who have been assessed twice by a registered evaluator and maintaining a required score on both evaluations and observe four other instructors to enhance their teaching styles.
"For earning the Army Instructor Badge, our faculty and staff receive extensive training and undergo various evaluations while teaching as faculty to demonstrate that we are more than just military instructors — we are also educators," said O'Neill. "We absolutely couldn't be this successful without the support we receive from UT's Faculty Innovation Center, participating in the Eyes on Teaching, and will continue to build our faculty's teaching prowess so we can continue to develop our future leaders."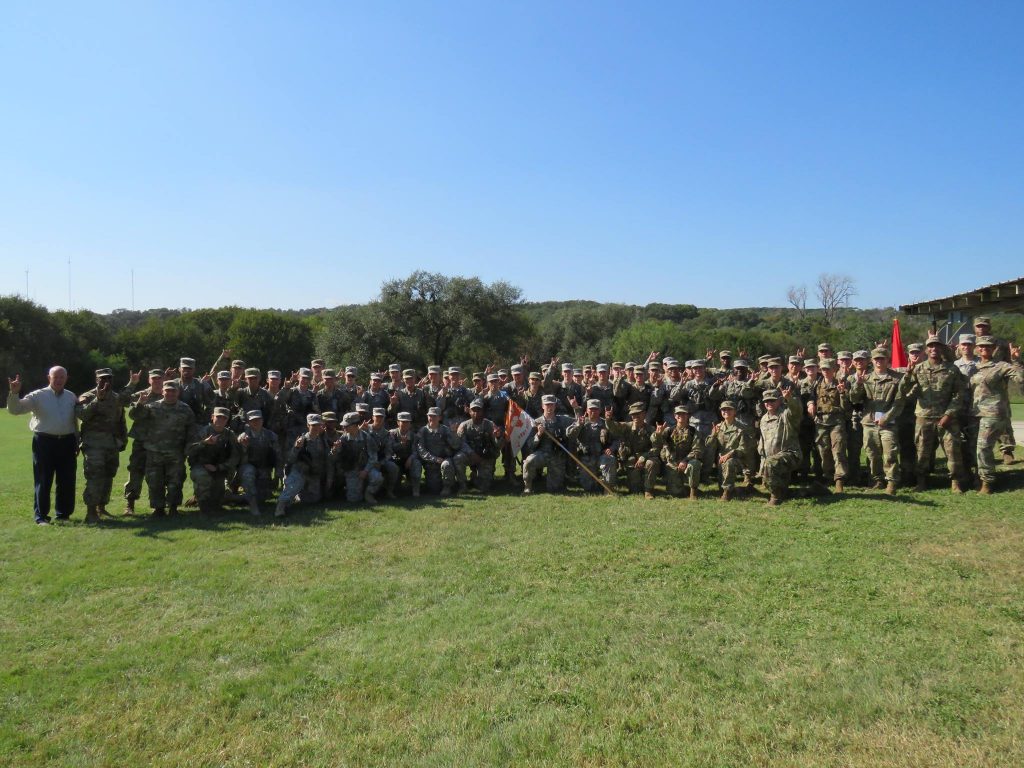 ---